32" Clear Acrylic Floor Vase Flower Stand With Mirror Base, Wedding Column
Item Number :PROP_BOX_003_32_CLR
---
Quantity: 1 Set Flower Stand
Material: Acrylic
Color: Clear
Total Height: 32"
Total Width: 10"
Inner Height: 31"
Top/Bottom Base Size: 10"L x 10"W x 4mm Thick
Individual Pole Size: 31"
Assembly Required: Yes
Item Includes:
4 Poles
2 Bases
Total 12 Screws (10 screws, 2 extra)
Top Diameter: 0.25"
Bottom Diameter:
 3mm
Screw Length: 3.5"
1 Screw Driver
Accessory Bag (for screws & screw driver)
Top Base is Clear (both sides) and Bottom Base is Mirrored (one side)
Need to remove protective plastic film before use
More Details
Information

Information

Reviews
Additional Information:
Max Weight Capacity: 15-20 lbs
Length of Space between Poles: 7.75"
Total Leg Inserts: 8pcs
Base Leg Insert Size: 2"L x 0.75" (Diameter)
Each pole end has a hole for screw insert
Each Base has (4x) glued-on Leg Inserts, one for every corner
Comes Disassembled
No Instructions Included. Easy to Assemble.
How to Care: Cleaning acrylic pillar stand should consist of wipe-cleaning with a soft rag or cloth while using a non-abrasive cleaner. For light stains or debris, you can also use canned air or clean water with a microfiber cloth. You should never use window cleaners, cleaning solvents with ammonia, or other chemical sprays as they can scratch or damage your acrylic products.
Uses: Home decor, Party decoration, Event centerpieces, Dining table centerpieces, Living room decor.
Important Note:
The Leg Inserts are designed to protect the Top and Bottom Panels during transit. They need to be removed prior to installation.
The Hole Tracing on each end poles guide the screw to go into the pole's ends. To avoid breakage, make sure to not over-screw. A good amount of tightness should be good to avoid over-screwing.
Customer Reviews
Write a Review
Ask a Question
Filter Reviews:
Best Buy
owner
hardware
acrylic
bucks
assembly
centerpiece
item
quality
purchase
10/03/2021
wendy b.

United States
10/01/2021
Lakeysia J.

United States
The screws for the legs don't fit!
I would love to give these stands 5 stars as they are absolutely gorgeous,but the construction of the stands were not well built. The screws that attach the legs to the stand does not fit properly thus making the stand unstable. After a couple of trips to the local hardware store to purchase a different set of screws and gorilla glue I was able to stabilize the stands.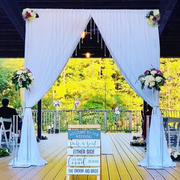 Harlow stands
I used all 13 harlow stands this weekend and they worked pretty good. Except some of the screw holes did hold the screw that securely, so we had to put something inside the hole to grip the screw.
Acrylic flower stand
Impressive quality. The acrylic is clean. Came with all hardware & easy to assemble. Very stable which impressed me.
04/09/2021
Carron M.

United States
Acrylic floor vase
Thanks to this discounted item, I am now the proud of owner of 10. So excited to get this amazing purchase