Pack of 10 | 58 Sq.Ft Black Foam Brick Wall Tiles Peel and Stick 3D Wall Panel Room Decor
Item Number:WLL_FOAM01_BLK
---
Color: Black
Material: Foam
1 Quantity = 10 panels
1 Quantity Covers 58 Sq.Ft of Wall
Panel Length: 2.5 Ft (30 inches)
Panel Width : 2.3 Ft (27.5 inches)
Thickness of each Panel: 2mm
Features : Waterproof & Anti Collision

Peel and stick to apply, pull up to remove
Easy Peeling Of Back Paper : Blow the back with hair dryer on high heat and try to peel after 1-2 mins of hot air blowing
Recommended Use : DIY, Featured Walls, Living & Bed Rooms, Banquet Halls etc
More Details
Information
Information
Reviews
Give your walls and backdrops a stunning visual impact with our new Self- Adhesive 3D Brick Wall Sticker Panels. These DIY peel and stick brick 3D wall decals are made of a self-adhesive substrate topped with an eco-friendly highly flocking embossed texture. The stickers are light weight, water resistant, stain resistant, and are easy to install. Their touchable textured brick-like surface offers customers amazing strong visual effect. The attributes of "self-adhesive" and "pre-pasted" makes the installation process quick, easy, and mess-free. Simply remove the adhesive backing, cut it in your desired shape and size with a pair of scissors, and apply it on any clean and sleek surface! And whoosh! Your designer wall is all ready to flaunt your style statement!
Besides being highly modern and stylish, our 3D soft foam brick wall stickers help in noise and temperature control as well as save your money on the professional application labor cost! These beauties make an ideal wall treatment for your featured walls, TV walls, sofa background, living room walls, bedroom walls, office walls, mirrors, closets, glasses, and any other smooth and clean surface!


Additional Information:
Color: 

Black

Material: Foam
1 Quantity = 10 panels
1 Quantity Covers 58 Sq.Ft of Wall
Panel Length: 2.5 Ft (30 inches)
Panel Width : 2.3 Ft (27.5 inches)
Thickness: 0.25cm
Features : Waterproof & Anti Collision
Peel and stick to apply, pull up to remove
Easy Peeling Of Back Paper : Blow the back with hair dryer on high heat and try to peel after 1-2 mins of hot air blowing
Recommended Use : DIY, Featured Walls, Living & Bed Rooms, Banquet Halls etc
Features:                                                     How to use:
 Note: Panels comes folded in half. Can have a faint plastic smell, air the panels out to dissipate the smell.
Customer Reviews
Write a Review
Ask a Question
Filter Reviews:
things
bricks
issue
design
panels
home
pieces
number
people
shipping
04/04/2021
TrayMycheal

United States
11/25/2020
Ro D.

United States
What you see is what you get
Great product. Super sticky. I tried to order more from a different manufacturer because it came in quicker and the quality of this one is much better. I'm going to return the other brand and order more of this. It's perfect for what I needed. Just must be very careful that it doesn't stick to itself or it's ruined. Very satisfied overall.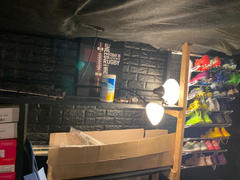 11/04/2020
Veronica M.

United States
01/30/2021
Tiffany s.

United States
Perfection!
Love it fast delivery.
11/12/2020
Eduardo R.

United States
Amazing product!
I love this product! Looks beautiful on the wall! Shipping was on time! Recommend 10/10!
10/22/2020
Yousef K.

United States
Black brick panels
I actually returned it due to them not being necessary after completion of the project. I do genuinely wish it we're more, foamier if that's even a word. That would look amazing and beneficial to your company in branching out to that customer base (which is huge, to say the very least), in providing a sound proof recording studio with exquisite modern designs that will be at a better price per sqft, than Amazon itself. With the 30 x 27.5 panels I've received from you, I was so happy with how big the panels were compared to the foam panels I've received from Amazon. The size of your company's panels coupled with the sticky adhesive design, (i only just wish the bricks were more foamier lol) it makes the job of building the sound proofing recording studios, that much easier and the job gets done quicker. No more sticky adhesive spray cans and boring full foam panels. The music recording/audio production industry which always requires, by law of sound of course...the need for these panels you sell, will always be there. You will have no competition if the modern, sleek designs used in today's society for that, interior spark and are truly sound proofing (more foamier lol). This becomes a lifetime customer. With designs catered to this worldwide industry, at the best of prices with a great reputable company. Also, since this horrid pandemic, there has been a boom in the purchasing of home studio equipment. Around the world. Of course due to strict quarantine and social distancing rules, people have stopped going to public recording studios and began to purchase their own equipment including foam panels of course, building their own at home, big office spaces, 12 car garages etc. These number of people who are not only celebrities, but regular working people from all walks of life, of all ages, who will always be passionate about music. Or professional engineers who just want to get back to work. With what's going on in the world, it's hard not to take notice at life in todays irregularities. This causes millions to suffer and end up needing to focus on the more simple things. All the while, the unemployed increase and quarantines constantly being implemented with no warning, putting life at a standstill once again as disarray starts to feel normal. We all begin to yearn for the simple things we reluctantly forgot about long ago while this pandemic plays its cards.Interior designing, including recording studios alone should be great for you guys going forward with those designs I spoke of. I wish I can provide a picture but could only describe this vision in such a way as it came, so suddenly. Goodnight and please stay well. PS- If you have any job openings in any department I can be useful in, please email me. Bless you, thanks again.
10/22/2020
Dylon M.

United States
BEAUTIFUL
I am not one for reviews but decided to share this one. Even though I was skeptical about "faux" bricks they looked phenomenal. One issue I had was a piece or two not having the glossy texture that the others did. But the pieces that looked as they should were as I said, beautiful!
02/04/2020
Steven M.

United States
I was not impressed at all
I would like you to take your product back and give me a refund
08/27/2019
Ashlee M.

United States
Ehh
Really nice finished look but it's impossible to peel the paper from the adhesive.. had to apply with spray adhesive.
Fantastic every things
Fantastic every things