$
25
.99
$41.99
Save $16.00
10 Pack Gold Mirror Lightweight Charger Plates For Table Setting, 13" Round Plastic Decorative Dining Plate Chargers
SKU: MIRR_PS_RND_13_GOLD
Free Shipping $49.00 to get Free Shipping
Free Shipping for Orders $49+ in the contiguous 48 US States. (Excludes AK, HI, US Territories, APO/FPO, International Countries)
Please enter your address in checkout for special shipping rate, UPS does not deliver to PO Box.
Quantity: 10 Charger Plates
Material: Hard Plastic
Color: Gold
Style: Mirrored Finish
Total Diameter: 13"
Thickness: 1mm
Shape: Round
Features: Reflective Material, Decorative, Elegant, Durable & Lightweight
Information
Gold Mirror Charger Plates
Elevate your dining experience to new heights with our exquisite Gold Mirror Plastic Charger Plates. Designed to impress, these lightweight round decorative serving trays redefine elegance and sophistication. Crafted with meticulous attention to detail, each charger plate features a stunning gold mirror finish that adds a touch of opulence to any table setting. The reflective surface plays with light, creating an enchanting dance that enhances the visual appeal of your culinary creations.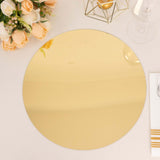 Gold Round Decorative Dining Plates
Captivate your guests with the luxurious charm of our Gold Mirror Plastic Charger Plates. Impeccably designed and thoughtfully crafted, these lightweight round decorative serving trays effortlessly enhance the aesthetics of your table setting. The gold mirror finish radiates a sense of grandeur, setting the stage for an unforgettable dining experience. Embrace the versatility of these charger plates as they effortlessly adapt to various occasions, from lavish banquets to intimate celebrations. Elevate your presentation with a touch of sophistication that only our Gold Mirror Plastic Charger Plates can provide.
Gold Lightweight Plates For Table Setting
Bring the allure of gold to your table with our Gold Mirror Plastic Charger Plates – the epitome of elegance for any occasion. These lightweight round decorative serving trays are more than just functional; they are a statement of style that complements your culinary masterpieces. The mirror-like surface not only adds a glamorous shimmer but also amplifies the beauty of your dishes by reflecting their colors and textures. Whether you're hosting a formal gala or an intimate gathering, these charger plates provide the perfect foundation for showcasing your gastronomic creations.
Additional Information:
Sale is for Charger Plates only, other decorative accessories are not included.
Easy to wash simply wash under hot rinsing water.
WARNING: These plates are not microwave or dishwasher friendly.
Uses: Perfect for wedding receptions, banquets, graduation parties, and other formal catered events