(Only $0.16 each butterfly)
12 Pack | Double Wing 3D Butterfly Wall Decals, DIY Stickers Decor - Fall Collection - Clearance SALE
Item Number :CONF_BUT02_10
$1.99

$1.99

(Only $0.16 each butterfly)
---
Quantity: 12 Pcs different models 3D butterflies

Material: PVC

Sizes
5" (2pcs)
4" (2pcs)
3.25" (4pcs)
2.25" (4pcs)
Wings: 4 (2 Top+2 bottom)

DIY: Can be stick by Magnet or Glued to Walls

Each Butterfly Comes with Magnet Underneath to Stick

1 Pack of Double sided Adhesive Sticker Sheet (15 Circles) included

NO RETURNS & NON-REFUNDABLE
More Details
Information

Information

Reviews
Additional Information:
Features:

One Pack comes with 12 high quality colorful Double Wings 3D PVC plastic Butterflies
Can be fixed to a wall with double tape
Comes with a Magnet and can be put on a fridge door or simply pin it on cloth/dresses with a safety pin

Highlights:

The 3D effect of Butterfly decoration makes a spectacular display
Perfect for decorating your work space, living room or bed room, fridge door or window displays

Specifications:

Material:

 

High Quality PVC Plastic
Sizes

5" (2pcs)
4" (2pcs)
3.25" (4pcs)
2.25" (4pcs)

Can stick by magnet or be glued to walls

How to

 

Decorate:

Step 1:

 

Clean and Dry the surface where you want the Butterflies to be placed
Step 2:

 

Fold wings to approx. 35° to create 3D effect
Step 3:

 

Peel off the double sided tape and position the 3D butterfly as you desire onto the surface and press to fix
Step 4:

 

Use your creative imagination and place Butterflies to make a beautiful wall decoration
Customer Reviews
Write a Review
Ask a Question
Filter Reviews:
butterflies
things
3D butterfly wall decals
granddaughters
magnet
wing affect
DOOR
girls
anyone
people
05/25/2020
Alicia G.

United States
Pretty color butterflies
The very first set I bought was for my grand mom's 100th birthday - they worked fabulously. This recent order - these butterflies are not holding as strong as I'd expected. Maybe the magnet is too small. Maybe the entire butterflies bodies need to be magnetic. Still very beautiful items especially the double winged. Love them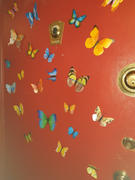 07/05/2021
June D.

United States
Beautiful
Used to decorate the classroom. They are beautiful.
01/12/2021
Rebecca H.

United States
09/28/2020
Melinda H.

United States
LOVE LOVE LOVE
I am super amazed at how beautiful this product is and how fast it was delivered. Highly recommend to anyone.
07/17/2020
David H.

United States
Super fine items.
They are so pretty and do exactly as I wanted, Thank you for such a fine product.
07/06/2020
Julie

United States
Best Butterflies
Stunning and vibrant colors absolutely lit up my little granddaughters face.
07/06/2020
Julie

United States
Best Butterflies
The Butterflies are vibrant in color, perfectly crafted, and my granddaughter absolutely loves them. We bought her 5 different sets to make sure she would have a wonderful variety. Thank you for making my little girls face light up with each butterfly.
07/05/2020
Melissa O.

United States
Good. They worked for what I needed them for and people loved them.
05/30/2020
Cindy F.

United States
Butterflies
They are very pretty and I think they will work well where I want them