$
6
.99
$10.99
Save $4.00
(0)
24 Pack | 7oz Glossy White / Gold Rim Premium Plastic Ice Cream Bowls, Heavy Duty Disposable Dessert Party Bowls
SKU: DSP_DST_BO004_7_WHTGD
Free Shipping $49.00 to get Free Shipping
Free Shipping for Orders $49+ in the contiguous 48 US States. (Excludes AK, HI, US Territories, APO/FPO, International Countries)
Please enter your address in checkout for special shipping rate, UPS does not deliver to PO Box.
Quantity: 24 Dessert Bowls
Material: Hard Plastic
Color: Glossy White | Gold
Capacity: 7oz
Overall Size: 4.5"Dia. x 1.5"H
Base Diameter: 2"
Depth: 1.5"
Thickness: 1mm
Shape: Round
Features: Food grade, non-toxic, durable, disposable, reusable, sturdy
Information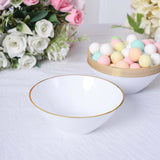 Glossy White / Gold Rim Plastic Dessert Bowls
Discover the epitome of sophistication and practicality with our enchanting Glossy White / Gold Rim Round Heavy Duty Plastic Dessert Bowls! If you've been on the hunt for the perfect combination of aesthetics and convenience, your search ends right here. Prepare to take your gatherings and celebrations to a whole new level of elegance with these exquisite disposable bowls.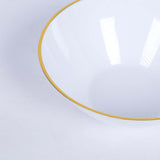 Glossy White / Gold Rim Round Party Bowls
Crafted with utmost care, our disposable dessert bowls are made from premium heavy-duty plastic, ensuring they can withstand the rigors of any event without sacrificing quality. Be it creamy mousses, delectable ice creams, or delightful trifles – these bowls are more than up to the task, elevating your culinary creations to a whole new level. Your table setting will be an artistic masterpiece, leaving an indelible impression on your esteemed guests.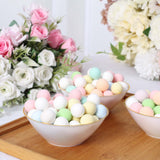 Disposable Ice Cream Bowls
Featuring a pristine white base that exudes pure elegance, complemented by a luxurious gold rim that effortlessly catches every gaze — these chic and sophisticated dessert bowls are more than just containers; they are a statement of style and grace. But that's not all. Our Glossy White / Gold Rim Round Plastic Bowls are multi-talented wonders! Their versatility knows no bounds – from appetizers and finger foods to petite-sized salads, they effortlessly adapt to any culinary masterpiece you wish to serve. Plus, no more post-party cleanup stress with our disposable dessert bowls! After the delightful feast, bid farewell to washing up woes and spend more time cherishing moments with your loved ones. It's a win-win situation, providing you with the joy of entertaining without the aftermath fuss.
Additional Information:
WARNING: Not microwave and dishwasher safe
Perfect for wedding, birthday, upscale occasions, and any special events