$
8
.99
$13.99
Save $5.00
25 Pack Brown Rustic Wood Print 10" Disposable Party Plates With Floral Lace Rim, Round Paper Dinner Plates
SKU: DSP_PPR0021_10_WHTBN
Free Shipping $49.00 to get Free Shipping
Free Shipping for Orders $49+ in the contiguous 48 US States. (Excludes AK, HI, US Territories, APO/FPO, International Countries)
Please enter your address in checkout for special shipping rate, UPS does not deliver to PO Box.
Quantity: 25 Dinner Plates
Material: 350 GSM Paper
Color: Brown | White
Shape: Round
Style: Rustic Wooden Print w/ Floral Lace Rim
Total Diameter: 10"
Inner Diameter: 7.5"
Depth: 0.5"
Rim Length: 1.5"
Features: Premium Quality, Eco-friendly, Non Toxic, Sturdy, Durable & Disposable
Information
Brown White Floral Lace Rim Dinner Plates
Elevate your dinner gatherings with a dash of natural sophistication courtesy of our Brown Wood Print Dinner Plates, adorned with a delicate White Floral Lace Rim. But hold on, these are no ordinary plates – they're the heavyweight champions of convenience, seamlessly blending rustic allure with timeless style.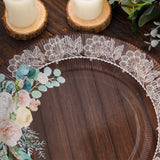 Brown Wooden Heavy Duty Paper Party Plates
Picture this: the cozy glow of wood gracing your table, creating the perfect backdrop for delectable dishes and captivating conversations. And that intricate lace rim? It's like a whisper of elegance, transforming each meal into an unforgettable experience. From cozy get-togethers to lavish celebrations, these plates effortlessly bridge the gap between casual and chic. Crafted to tackle even the heartiest of feasts, these substantial disposable plates do more than just hold food; they become your culinary canvas. Their strength ensures your dishes are showcased impeccably, while the lace rim adds an artistic flourish that frames every serving beautifully.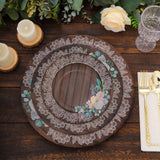 Brown White Disposable Dinner Plates
As the last bite is savored and laughter fills the air, embrace the convenience of disposability without sacrificing flair. These plates aren't just forgotten; they leave behind the mark of a perfectly hosted dinner party. So, whether it's friends or family you're hosting, these Brown Wood Print Plates are your accomplice in adding a touch of sophistication to your table, one plate at a time.
Additional Information:
Uses: These dinner plates are a perfect option for banquets, fiestas, BBQs, weddings, engagements, birthdays, parties, baby showers, upscale catering, home dinners, etc.
WARNING: Not Microwave or Dishwasher Safe