$
339
.99
$543.99
Save $204.00
4 Pack Stackable Clear Acrylic Ghost Banquet Chairs with Oval Back, Fully Assembled Armless Accent Chairs
SKU: FURN_CHIV04_CLR_CASE
Free Shipping $49.00 to get Free Shipping
Free Shipping for Orders $49+ in the contiguous 48 US States. (Excludes AK, HI, US Territories, APO/FPO, International Countries)
Please enter your address in checkout for special shipping rate, UPS does not deliver to PO Box.
Quantity: 4 Banquet Chairs
Material: Acrylic
Color: Clear
Style: Transparent Assembly Banquet Chair
Weight Capacity: 400lbs
Total Dimensions:
Height (Seat to Top): 17"
Height (Seat to Bottom): 18"
Seat Size: 15"L x 13"W
Chair Overall: 36"H x 15.5"L
Total Size: 35.75"H x 15.5"L
Assembly Required: No, ready to use.
Stackable up to 8 chairs.
Features: Scratch & Stain Resistant, Strong, Lightweight, Easy Transport and Storage.
Information
Transparent Banquet Chair
Embark on a journey to elegance and sophistication with our Clear Crystal Acrylic Banquet Ghost Chairs. These chairs effortlessly combine style and functionality, making them an essential addition to any event or venue. Made from high-quality crystal-clear acrylic, their ethereal beauty seamlessly harmonizes with any decor. The best part? No more assembly headaches! These chairs are ready to use straight out of the box, allowing you to focus on creating unforgettable moments. With their stackable design, transforming your venue has never been easier, ensuring each event flows seamlessly with a touch of convenience and style.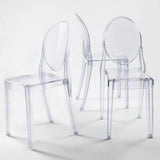 Armless Stacking Banquet Chair
Prepare to be amazed by the practicality of these acrylic chairs. Thanks to their ingenious design, our transparent banquet chairs are stackable up to 8 chairs, providing effortless storage and efficient space management. Bid farewell to bulky and cumbersome seating arrangements that clutter your venue. With these stackable ghost chairs, you can effortlessly create an open and airy atmosphere, maximizing every inch of your space. From grand banquets to stylish weddings and chic corporate events, these chairs will undoubtedly elevate the ambiance, infusing a modern flair that impresses your guests.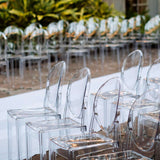 Ghost Side Chair With Oval Back
Experience the epitome of convenience, style, and durability with our Clear Crystal Acrylic Banquet Ghost Chairs. Step up your event game, as these chairs effortlessly enhance your space with their captivating beauty. No assembly required means more time for creativity and less stress. Embrace the ease of stacking and transforming your venue, allowing each event to flow seamlessly. These chairs are not just furniture; they are a statement of elegance and practicality, setting the stage for unforgettable moments. Get ready to elevate your events to new heights, leaving a lasting impression on your guests.
Additional Information:
Top Part Measurements:

Total Size: 20"L x 13"W
Oval Size: 16.25"L x 12.25"W

Bottom Part Measurements:

Total Size: 18"L x 16.5"W
Individual Leg Length: 16"
Arch Opening: 16"L x 13"W

Uses: Wedding, Party, Event and Banquet Furniture.