$
24
.99
$39.99
Save $15.00
54"x10 Yards Terracotta Accordion Crinkle Taffeta Fabric Bolt
SKU: FAB_ACRNK_5410_TERC
Free Shipping $49.00 to get Free Shipping
Free Shipping for Orders $49+ in the contiguous 48 US States. (Excludes AK, HI, US Territories, APO/FPO, International Countries)
Please enter your address in checkout for special shipping rate, UPS does not deliver to PO Box.
Quantity: 1 Fabric Bolt
Material: Accordion Crinkle Taffeta
Color: Terracotta
Width: 54" Wide
Length: 10 Yards
Features: High quality, soft sheen, smooth yet textured surface, lightweight.
Perfect for draping tables, ceilings, walls and DIY projects.
Information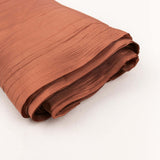 Terracotta Accordion Crinkle Taffeta Fabric Bolt
Embark on a journey to infuse warmth and artistry into your event decor with our Terracotta Accordion Crinkle Taffeta Fabric Bolt. Like a canvas painted by nature's own hand, this fabric unravels a tale of rustic elegance and earthy charm. Imagine the sun-kissed hues of terracotta dancing across exquisitely textured fabric, inviting you to turn ordinary spaces into captivating havens of style and grace. With this fabric bolt, your event decor ventures into a realm where innovation meets tradition, and every fold tells a story of timeless beauty.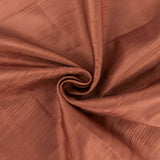 Terracotta Taffeta Fabric
Elevate your event decor with the Terracotta Accordion Crinkle Taffeta Fabric Bolt, using its rich tones and textured folds to create awe-inspiring tablescapes. Drape this fabric over tables as tablecloths, allowing its unique crinkled texture to play with light and shadows, adding depth and character to the setting. For an artisanal touch, fashion napkins, placemats, or even chair bows from this fabric, infusing your event with the charm of handcrafted details that mirror the fabric's exquisite design.
Terracotta Wholesale Fabric By Yard
Craft an ambiance of sophistication and earthy allure by utilizing the Terracotta Accordion Crinkle Taffeta Fabric Bolt for stunning backdrops. Whether it's a wedding, a corporate event, or a photoshoot, this fabric transforms ordinary spaces into immersive experiences. Envision swathes of terracotta cascading from ceiling to floor, forming a backdrop that echoes the hues of sunset and the touch of windswept earth. To amplify the enchantment, interweave twinkling lights through the fabric, conjuring a starlit sky indoors and lending a touch of magic to your event.
Additional Information:
Uses: Decorate Arches, Backdrops, Gowns, Headdress, Costumes, DIY Crafts, Photography Decorations, Curtains, Runners. Great for Receptions, Cushion Covers, Bridal and Baby Showers, Quinceaneras, Anniversary Parties, Catered Events, Banquet, Hotel, Restaurants and any Home use.