$
19
.99
$31.99
Save $12.00
8ft Terracotta Spandex Fitted Open Arch Wedding Arch Cover, Double-Sided U-Shaped Backdrop Slipcover
SKU: IRON_STND18_SPX_L_TERC
Free Shipping $49.00 to get Free Shipping
Free Shipping for Orders $49+ in the contiguous 48 US States. (Excludes AK, HI, US Territories, APO/FPO, International Countries)
Please enter your address in checkout for special shipping rate, UPS does not deliver to PO Box.
Quantity: 1 Wedding Arch Cover
Material: Spandex
Color: Terracotta
Style: U-Shaped
Total Height (Stretched): 8ft
Total Width: 11"
Feature: Premium Quality Spandex, Wrinkle Resistant, Durable, Reusable
Pullover cover to get a snug fit
Information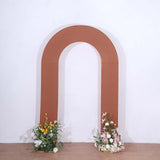 Terracotta Spandex Wedding Backdrop Cover
Embark on a journey into timeless elegance with our Terracotta Stretch Spandex Open Arch Backdrop Cover, a masterpiece that brings your dreams to life. Meticulously designed to elevate your event to unprecedented levels of sophistication, this backdrop cover goes beyond mere decoration – it serves as a canvas for curating moments of enchantment. The gentle stretch of premium spandex wraps around U-shaped backdrops, effortlessly transforming even the simplest arches into captivating focal points.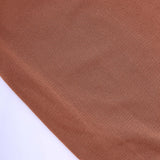 Terracotta Double-Sided U-Shaped Arch Slipcover
Unveiling the Terracotta Stretch Spandex Open Arch Backdrop Cover is akin to infusing your occasion with a touch of warm richness. Whether it's a romantic wedding reminiscent of classic tales, a serene baby shower, or an upscale corporate gathering, the earthy allure of the terracotta hue sets the stage for memories that resonate. The open arch design not only frames spaces with grace but also invites your creative ideas to take center stage. Adorn it with natural elements for a rustic ambiance or embrace modern minimalism with clean lines – this cover stands as your creative partner.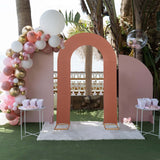 Terracotta Fitted Open Arch Cover
Crafted with meticulous attention to both aesthetics and practicality, the U-shaped backdrop slipcover ensures seamless installation. The sturdy spandex material resists wrinkles and creases, ensuring a flawless presentation from the moment the first guest arrives to the final farewells. Radiating an effortless sophistication, the cover provides a polished backdrop that garners admiration from both photographers and attendees. Elevate your event design with the Terracotta Stretch Spandex Open Arch Backdrop Cover, where every element converges to craft an embodiment of warmth, refinement, and limitless creativity.
Additional Information:
Order is for Wedding Arch Cover only. Stands or other accessories are not included.
Uses: Wedding Decoration, Ceremony, Party Decor, Baby Shower, Shopping Mall, Stores, Home Decor