90"x132"
$
34
.99
$60.99
Save $26.00
90"x132" Rose Gold Shimmer Sequin Dots Polyester Tablecloth, Wrinkle Free Sparkle Glitter Tablecover
SKU: TAB_SHIM_90132_054
Free Shipping $49.00 to get Free Shipping
Free Shipping for Orders $49+ in the contiguous 48 US States. (Excludes AK, HI, US Territories, APO/FPO, International Countries)
Please enter your address in checkout for special shipping rate, UPS does not deliver to PO Box.
Quantity: 1 Rectangular Tablecloth

Material: Glitter Dots on Polyester Base

Color: Rose Gold
Style: Shimmering Sequin Dots
Size: 90"x132"

Thickness: 160GSM

Edges: Hemmed
Seamless, 1pc design

Features: Premium Polyester, Soft & Smooth Surface Fabric, No Wrinkle, Durable, Reusable
Information
Rose Gold Polyester Tablecloth
Step into a realm of exquisite elegance with our Shiny Blush Shimmer Sequin Dot Rectangular Polyester Tablecloth, where modern glamour meets classic charm. Elevate every meal to a memorable affair with this enchanting masterpiece that drapes gracefully over rectangular tables, leaving your guests spellbound. The delicate blush hue, adorned with shimmering sequin dots, casts a radiant glow, infusing your dining space with an air of opulence. Be it an intimate dinner party, a lavish wedding reception, or a joyous holiday feast, this tablecloth promises to enhance your decor with sophistication, making every gathering truly special.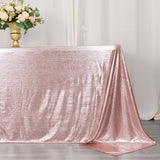 Rose Gold Shimmer Sequin Dots Tablecloth
Indulge in the luxury and practicality of our Shiny Blush Shimmer Sequin Dot Rectangular Polyester Tablecloth. Crafted from high-quality polyester, it ensures durability and long-lasting use, ideal for frequent occasions. Stain-resistant and easy to clean, you can focus on enjoying time with loved ones without the worry of spills or messes. Delight your senses with the ambiance of elegance created by this resplendent tablecloth, capturing the essence of celebration and joy.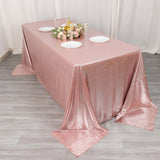 Rose Gold Elegant Rectangular Tablecloth
Experience the epitome of refined beauty and grace with our Shiny Blush Shimmer Sequin Dot Rectangular Polyester Tablecloth. Set it as the centerpiece of your dining area, captivating guests with its enchanting shimmer and timeless allure. Embrace the allure of sophistication and create a dining atmosphere that will be cherished and remembered for years to come. Make a statement with this exquisite tablecloth that embodies luxury, adding a hint of romance and grandeur to your cherished moments. Let it set the stage for an unforgettable dining experience, where every detail reflects the splendor of the occasion.
Additional Information:
Listing is for Rectangular Tablecloth Only, Other decorations are not included.
How to Clean: Machine Washable.

Uses: Birthday Parties, Weddings, Baby Showers, Candy Buffet, Anniversary Dinner, Graduation Ceremony, Proms and more!