90"x132"
$
34
.99
$60.99
Save $26.00
90"x132" Silver Shimmer Sequin Dots Polyester Tablecloth, Wrinkle Free Sparkle Glitter Tablecover
SKU: TAB_SHIM_90132_SILV
Free Shipping $49.00 to get Free Shipping
Free Shipping for Orders $49+ in the contiguous 48 US States. (Excludes AK, HI, US Territories, APO/FPO, International Countries)
Please enter your address in checkout for special shipping rate, UPS does not deliver to PO Box.
Quantity: 1 Rectangular Tablecloth

Material: Glitter Dots on Polyester Base

Color: Silver
Style: Shimmering Sequin Dots
Size: 90"x132"

Thickness: 160GSM

Edges: Hemmed
Seamless, 1pc design

Features: Premium Polyester, Soft & Smooth Surface Fabric, No Wrinkle, Durable, Reusable
Information
Silver Polyester Tablecloth
Step into a world of elegance and glamour with our Shiny Silver Shimmer Sequin Dot Rectangular Polyester Tablecloth. This tablecloth is the true epitome of sophistication, designed to elevate any event to a whole new level. The carefully placed sequin dots create a dazzling silver shimmer, enchanting your guests with a mesmerizing play of light. Perfect for weddings, galas, and upscale parties, this tablecloth effortlessly transforms any table into a luxurious centerpiece, leaving a lasting impression on all who gather around it.
Silver Shimmer Sequin Dots Tablecloth
Crafted with meticulous attention to detail, our Shiny Silver Shimmer Sequin Dot Rectangular Polyester Tablecloth combines style and durability. Made from high-quality polyester, this tablecloth is built to withstand the test of time, ensuring it remains a cherished part of your event repertoire for years to come. Set the stage for an unforgettable experience, and let the radiant silver sequin dots cast a magical spell on your guests.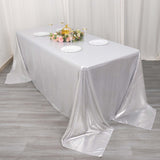 Silver Elegant Rectangular Tablecloth
Prepare to be captivated by the effortless beauty of our Shiny Silver Shimmer Sequin Dot Rectangular Polyester Tablecloth. The easy-to-clean and wrinkle-resistant fabric ensures that you can focus on creating unforgettable memories without worrying about tedious cleanup. Whether you're hosting a lavish banquet or an intimate dinner party, this tablecloth promises to be the center of attention. Let the timeless allure of shimmering sequins infuse your event with an aura of luxury, making every moment truly memorable for you and your esteemed guests.
Additional Information:
Listing is for Rectangular Tablecloth Only, Other decorations are not included.
How to Clean: Machine Washable.

Uses: Birthday Parties, Weddings, Baby Showers, Candy Buffet, Anniversary Dinner, Graduation Ceremony, Proms and more!