Black Universal Satin Chair Covers
Item Number :CHAIR_UNIV_STN_BLK
---
Quantity: 1 Chair Cover
Material: Satin
Color: Black
Size:

46" tall x 44" width
Note:

Fits Banquet, Folding, and Chiavari style chairs.
All sizes are approximate measurements.
Due to different light settings, the actual color might vary a bit from the pictures.
More Details
Information
Information
Reviews
Uses: Wedding, Party, Event, Banquet, Decoration
How to Care: Machine Washable, Tumble Dry, Low Heat
Customer Reviews
Write a Review
Ask a Question
Filter Reviews:
chair
everything
quality
event
shipping
Chair covers
products
guest
item
package
03/05/2021
Kathleen M.

United States
05/13/2020
hildagilda

United States
Great Value! Game changer!
Was contemplating renting chairs for a last minute formal event, but was being loaned basic folding chairs for free. They were basic and even mismatched....but available to me and FREE....should I splurge on pretty rentals, plus delivery fee? Found these universal chair covers here, online, at such a great deal. Too good to be true? I wasn't sure, but figured if they came in looking too cheap I still had time to return them and just splurge on the rental chairs. What a sweet treat to open the package and place it on the **** chair - and Voila! total transformation! I scored! It was a bargain and my chairs looked great. The best is they are universal, so I now have them cover up any chairs pretty much and make them uniform when needed. Also, FYI, they washed great. just threw them in the washer after the event. Not gonna lie, you have to play with them a bit when you first fit it on your chairs as they are meant to fit all kinds of shaped chairs; so you have to figure out how to make it work best for your particular chair. It allows you to play with it. In my case, it was easy enough to just tie the excess into a knot in the back to fit it snug. Also, took me a minute to realize that one side is longer then the other - there IS actually a front (the longer side) and a back side to how it goes on the chairs. Basically, can't go wrong with these....for the price, it's a total win! One thing to know with shipping though. As with any event, you HAVE to have your things in by a certain date, in order to have it ready to go for your spacial day. I had ordered a bunch of things and even payed extra to express ship to me. I kept checking for shipping updates. After a few days, when I saw my order had not even shipped; I contacted Tableclothfactory.com to see what was up and when it would ship. Apparently, If one item in your order is on back order, I holds up the ENTIRE shipment!...No one had told me and my event was in 3 days!! It so happened the item had just restocked that day on whatever item it was that was on backorder and the company was able to send out my order that evening - However I had to pay yet another Extra expedited fee (to which they agreed to pay 1/2). This is a major flaw in the system. Had I not spoken to them that day; nothing in my order would have arrived in time for my event. So although I love the value I get with their products; the moral to this last paragraph is for the Buyer: make sure to double check you're order ships in time for your items to arrive in time for your event (express or not). TableClothFactory: if an order is going to be delayed for Any reason, you should let the buyer know so that they can decide what they want to do about the one item, rather than delay their ENTIRE shipment....it will ruin the clients event and probably just result in them returning everything if they don't receive it in time anyway.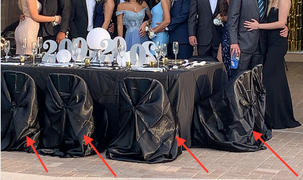 11/14/2020
Kimberly P.

United States
Satin Seats
I haven't used the chair covers yet, but the arrival time was perfect
10/18/2020
Djemilie G.

United States
The must have
I totally love the chair covers. They are beautiful and very manageable; you can do your own style and they fit more than 1 type of chairs.
08/26/2020
Sylvia G.

United States
Satin chair cover
Very pretty, it was used for a banquet, and the guest loved it.
07/05/2020
Lyntoria C.

United States
I haven't used them yet but they are nice
Done ok ...........