$
79
.99
$127.99
Save $48.00
Stackable Clear Acrylic Phoenix Chiavari Ghost Chair, Transparent Resin Armless Oval Back Chair
SKU: FURN_CHIV03_CLR
Free Shipping $49.00 to get Free Shipping
Free Shipping for Orders $49+ in the contiguous 48 US States. (Excludes AK, HI, US Territories, APO/FPO, International Countries)
Please enter your address in checkout for special shipping rate, UPS does not deliver to PO Box.
Quantity: 1 Chiavari Chair
Material: Acrylic | Resin
Color: Clear
Style: Transparent Stackable Phoenix Chiavari Chair
Weight Capacity: 300lbs
Total Chair Measurement:
Total Size: 16"W x 38"H
Height (Seat to Top): 20.5"
Height (Seat to Bottom): 17.5"
Seat Size: 16"L x 16"W
The chair comes in 4 Parts with Bag of accessories.
Stackable up to 7 chairs.
Assembly Required: Yes
Assembly Instruction: Not included. Easy to Assemble
Perfectly pairs with our Seat Cushions
Features: Scratch and Water Resistant, Strong, Lightweight, Easy Transport and Storage.
Information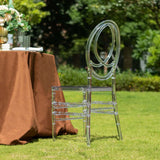 Transparent Chiavari Chair
Unveiling a masterpiece of modern design and elegance - the Stackable Acrylic Phoenix Chiavari Chair. Meticulously crafted, this ghost chair effortlessly marries sleek aesthetics with ingenious functionality. Its transparent, crystal-clear oval back, reminiscent of the majestic phoenix taking flight, casts an enchanting spell on any space it graces. The ethereal beauty of this acrylic chair ensures it seamlessly harmonizes with diverse decor styles, transcending time from contemporary to timeless classics. A true gem, appealing to event planners, interior visionaries, and homeowners seeking that elusive blend of innovation and style.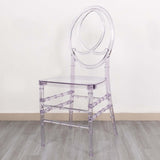 Clear Phoenix Wedding Chair
Experience an assembly like no other - the Stackable Acrylic Phoenix Chiavari Chair embraces a user-friendly setup, sparing you the technical labyrinth. Within moments, your space will be transformed into a haven of comfort and flair with these iconic chairs. Fashioned from high-quality acrylic, these Chiavari chairs don't just captivate visually, they promise durability and steadfast support, standing the test of countless gatherings and occasions. The stackable design lends itself to space efficiency, granting you the ability to stow them away effortlessly, a perfect solution for venues with ever-changing seating needs.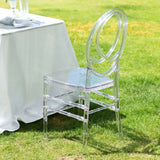 Clear Stackable Ghost Chair
Picture orchestrating a grand wedding, a sophisticated corporate gala, or breathing new life into your living haven - the beguiling transparency of the armless phoenix Chiavari chair will etch an indelible memory in your guests' minds. It's not merely a chair; it's an emblem of sophistication and innovation. Elevate your seating saga and metamorphose any space into a living canvas with these armless oval back ghost chairs, an embodiment of seamless fusion between artistry and utility.
Additional Information:
Bag of Parts:
Long Flat-Tipped Screws: 8pcs
Screw Length: 1.1"
Uses: For Indoor/Outdoor Weddings, Parties, Birthdays, Bridal Showers, Events and Photo Sessions.