8FT x 10FT - DIY Adjustable Backdrop Stand - Portable Photography Backdrop Stand - Photo Video Studio Backdrop Stand Kit with FREE Backdrops
Item Number:BKDP_STND08
---
Material : Metal

Min. Size: 31"H x 112"W

Cross bar diameter : 1cm Largest End
Package Includes :
(1) Background Support Stand
(1) Background Support Bag
(1) White Non Woven Fabric Backdrop 10x10 ft
(1) Black Non Woven Fabric Backdrop 10x10 ft
(2) Stand Clamp
All sizes are approximate measurements
Due to different light settings the actual color might vary a bit from the pictures.

More Details
Information
Information
Reviews
Our sturdy portable backdrop stand kit is perfect to set up anywhere! Use it for holding up any of our backdrops or banners, for setting up peppy photo booths, and even for home and professional studio use. This high quality backdrop support kit is perfectly suitable for all level photographers from professional to amateurs. This portable backdrop kit can efficiently be used for both small and large groups, both in location and on studio due to its compact travel size and ease of setup. You can effortlessly disassemble it and fit in a handy travel bag. Now, its that simple to take your studio backdrops with you on location with an ease of size and weight. The black finish is durable and highly professional. You can use it efficiently for both fabric (canvas/muslin) and paper backgrounds. Our multipurpose backdrop support kit can ideally be used for shooting at your preferred location, for portraits and interviews, and even for a mobile photography studio!
Special Features:
 Heavy-Duty and Conveniently Portable: The backdrop kit comes with a carrying case, perfect for using at home, studio, office, or outdoor events. Made of high grade metal, the stand is sturdy and durable.

 Wide Application: The backdrop kit is perfect for any portrait, fashion, costume, and large object photography. The background kit suits photographers of all levels, from amateurs to professionals.
Package Includes :
(1) Background Support Stand
(1) Background Support Bag 
(1) White Non Woven Fabric Backdrop 10x10 ft 
(1) Black Non Woven Fabric Backdrop 10x10 ft
(2) Stand Clamp

Additional Information:
Maximum Height is 8ft
Minimum Height is 31"
Maximum Width is 10ft
Minimum Width is 112"

8FT x10 FT Background Support System Stand - Quick-release Tight Locking System

Easy to set up and store (Just needs a few seconds)
Solid Safety 3 Legs Stages
Height is adjustable Upto 8Ft
Width is adjustable Upto 10Ft
Cross bar consists of Four sections, making it simple to adjust the width
Cross bar diameter : 1cm Largest End
Holds Fabric, Muslin, Paper, Canvas
Disassembles quickly and easily to fit into its carry case
1 x Photo Studio 10FT x 10FT Black Backdrop Screen
Size : 10ft x 10ft
Light weight fabric
Non Woven Seamless Backdrop
Non-Gloss Reflective Fabrication
Simply dust off the surface and should be ready for reuse
1 x Photo Studio 10FT x 10FT White Backdrop Screen
Size : 10ft x 10ft
This Backdrop made by Non Woven Fabric
Reflective and None Gloss surface
Simply dust off the surface and should be ready for reuse
Lightweight fabric and wrinkle resistant
2 x Photo Studio Photography Muslin Backdrop Clamps
3.75in long
Essential Item in Any Studio or Event Setup
Ideal for Home or Work
Light Weight and Easy to Use
Grips the background to the backdrop stand
Easy to use and can grip just about anything

How to set up:
Connect BAR A to BAR B to BAR D
To Tighten: Turn Knob RIGHT
To Loosen: Turn Knob LEFT
Uses - Wedding, Party, Event, Photography, Exhibition Decoration
Note : Sand Weight Bags and other accessories not included.
Customer Reviews
Write a Review
Ask a Question
Filter Reviews:
price
material
fabric
delivery
purchase
quality
item
backdrop
shipping
deal
04/22/2020
Charline M.
United States
My Back Drop
The Back drops were awesome!
06/11/2020
Nathaniel J.
United States
06/07/2020
Brenda G.
United States
06/03/2020
Cassandra S.
United States
Adequately does the job, but not great quality
I'm not sure I can really complain because I did buy the cheapest backdrop set I could find. And it does what it is supposed to do -- it holds a (light) backdrop. That being said, I was kind of disappointed with this product. Pros: - It does stand up and hold the drape/backdrop - It came with 2 backdrops (white and black) Cons: - Very thin metal. - Not very sturdy. The set uses four, 32" poles that have to be assembled/disassembled each time it is used. The support stands are very light, so they can easily be tipped. - The top bar (4 assembled pieces) is already bowing slightly in the middle (even though the bars are metal). - I was sure I bought a 10' x 8' set, but I got a 10' x 6' set instead. Luckily I can make the shorter version work, but I was disappointed I didn't got the full 8' like I wanted. I had to use it right away, so I couldn't send it back. - The backdrops didn't have a sleeve (pole pocket) at the top to run the poles through. Luckily I'm a seamstress, so sewing a 2" seam at the top of one of the backdrop sides was an easy fix. Also, they had a bit of a smell to them (vinegar maybe?) when I opened them, but they eventually aired out.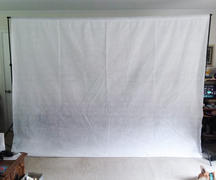 04/17/2020
Makeda B.
United States
01/03/2020
Cecilia M.
United States
09/03/2019
JAMES V.
United States
One flaw
Shipping was fast, set up was easy, but the white backdrop was ripped, instead of replacing the back drop, they offered me an $18.00 gift certificate. Had it been my company, I would have shipped a new back drop and still offered the gift certificate. This is for photography and with the lights on, it shows where I fixed it.