26FT String LED Lights With 25 Clear Bulbs 8 Mode Dimmable Warm White Waterproof Outdoor/Indoor Patio - Remote Included
Item Number :LED_BALL05_CLR
---
Color: Black String With Clear Bulbs
Material: Plastic
Total Bulbs: 25
Bulb Diameter: 1.5"
Length of the string: 26 ft. long bulb to bulb
Bulb Spacing: 13" 
Battery Required: 3x AA Batteries (Not Included)
Suitable to Indoor/Outdoor Use
Waterproof String Light
Features: Dimmable light, 8 different mode, on and off switch
8 Modes
Combination
In Wave
Sequential
Slow Glow
Chasing/Flash
Slow Fade
Twinkle/Flash
Steady On
If one bulb goes out, other bulbs stay lit.
Inclusion: Bulbs not glued to Plastic. Clear Bulb Covering are replaceable. LED not replaceable.
More Details
Information

Information

Reviews
Add warm luminous accents to your backyard garden party, dance function, or wedding reception with our clear globe string lights. Featuring classic globe shape and crystal clear construction, these glowing balls of glory make a perfect lighting option for your Christmas Tree Decoration, Outdoor or Indoor Christmas Decoration, Backdrop Décor, Table Décor, and also for glamming up your patios, decks, pergolas, umbrella , bedrooms, office spaces, and every other place that needs a dash of dazzling drama! Unlike other lights available in the market, our bulbs are not glued to the plastic, thus are replaceable/ interchangeable. Exuding warm white LED lights, this fairy light sets comes with battery operated and remote control function with additional 8 modes option. This means, you can take the lights anywhere, hang from or drape to any place, and can have your mood rule the lightning modes! Being waterproof and cool to touch, the lights are environment friendly and safe to be used outdoors as well as in parties involving the youngest squad!

Additional Information:
Color: Black String With Clear Bulbs
Material: Plastic
Total Bulbs: 25
Bulb Diameter: 1.5"
Length of the String: 26 ft. long bulb to bulb
Bulb Spacing: 13" 
Bulbs hang down from wire: 2.25" (this includes the black plastic)
Length of Cord from last bulb to battery pack: 23.5" 
Length of Battery Pack: 3"
Width of Battery Pack: 2.5"
Battery Required: AA Battery (Not Included)
Suitable to Indoor/Outdoor Use
Waterproof String Light
Features: Dimmable light, 8 different mode, on and off switch
Remote Functions:


On: Turns Item ON
Timer: Press Once and and It will keep Item turned on for 6 Hours then turn OFF. Press Off to cancel Timer.
Off: Turns Item OFF
Mode: 1-8 for Different Modes of Pattern
DIM: -/+ Button to Dim or Brighten LED Lights


8 Modes 

Combination
In Wave
Sequential
Slow Glow
Chasing/Flash
Slow Fade
Twinkle/Flash
Steady On

If one bulb goes out, other bulbs stay lit.

Inclusion: Bulbs not glued to Plastic. Clear Bulb Covering are replaceable. LED not replaceable.
Uses

:

Patios, Decks, Weddings, Tents, Pergola, Bistro, Backyards, Pool umbrella and Parties
Note:

 

Battery pack is water proof.
Customer Reviews
Write a Review
Ask a Question
Filter Reviews:
lights
battery
wedding
remote
space
bulbs
functions
electricity
daughter
porch
12/04/2021
Daveen D.

United States
03/06/2021
Daveen D.

United States
They are perfect for decorating a Broadway theme.
These bulbs were a HUGE HIT today - I just decorated a restaurant for a special birthday party which had a Broadway theme. The bulbs are about 2" in diameter, have an "old timey" feel in that they look like marquis bulbs that used to light up theatres on Broadway in NYC. I placed them around printed images of the shows, to make a box, and balloons came out from the box. They were perfect, and had different intervals - I chose the steady "on". They were a warm white/yellow, and looked incredible. Very easy to work with and place into the foam board panels. The company was very informative when I needed to chat, and I did need to replace a couple of sets, and they did that immediately after showing them a photo of the defective part. I ordered a lot of sets, so I checked them immediately upon arrival. I will definitely order these again. Great product and company.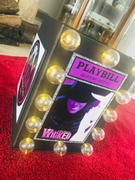 Not what I expected
I anticipated using these lights on a balcony. They are 1st battery operated which doesn't allow them to be connected end to end to be synchronized. Also the remote didn't operate the lights at all. Good on theory and poor in performance. I returned immediately for a full refund! They were going to charge me the shipping cost for the return until I explained they were defective. I was given the 3rd degree by customer service whether I'd tried the other two strands. "What difference does that make if this one doesn't work! Please process my refund!" I was sent a label and returned for a full refund. Product was cheaply made and defective!!!
05/04/2022
Shakaria B.

United States
They were not as bright as I would have like for them to be.
04/04/2022
Kristine S.

United States
Cute, but too dim
They are cute and I really love the remote feature, but they do not provide any illumination of a dark space. They are very dim.
02/08/2022
Susan I.

United States
So far so good
I ordered 12 of these sets for my daughter's upcoming wedding. They are much cheaper than rental lights and being battery operated we won't have to worry about outlets. I tested each set and they all work perfectly. They shipped fast and were well packed. Very pleased with purchase. They won't be used until fall. I will try to update then.
01/10/2022
Cathy T.

United States
Thank you
They were perfect -exactly what we needed for our outdoor rehearsal dinner event!
09/09/2021
Renee M.

United States
Market lights
Enjoying my new lights, I have them going around our canopy so we can have some light while sitting on the patio at night, love that they are on a remote, easy to turn on and off, they could be a little brighter, but other than that very please with them
08/11/2021
Andrea F.

United States
Lights
These lights are great if you're gonna have an outdoor wedding with no electricity They are amazing!
08/05/2021
Maribeth G.

United States
Work great!
Just what i was looking for, great battery operated lights with a remote! They work great!