$
7
.49
$11.99
Save $4.50
10 Pack Antique Gold Skeleton Key Bottle Opener Party Favors Wedding Souvenirs, Vintage Wedding Bridal Shower Favors With Tag Card & Chain
SKU: FAV_GF_OPN_KEY01_ANTQ
Free Shipping $49.00 to get Free Shipping
Free Shipping for Orders $49+ in the contiguous 48 US States. (Excludes AK, HI, US Territories, APO/FPO, International Countries)
Please enter your address in checkout for special shipping rate, UPS does not deliver to PO Box.
Quantity: 10 Bottle Openers w/ Chains & Tags
Material: Metal
Color: Antique Gold
Style: Heart Skeleton Key
Key Size: 3.25"L x 1.25"W
Chain Length: 4.25"
Tag Size: 3.75"L x 1.75"W
Tag Material: Kraft Paper
Hole on top of the tags to hang chain with bottle opener
Features: Sturdy Metal Alloy, Exquisite Design, Durable, Not Fade, Non Rusting
Perfect for opening any beer, wine or cider bottle.
Information
Antique Gold Skeleton Key Wedding Souvenirs
Elevate your wedding experience with our Antique Skeleton Key Bottle Openers. This exceptional fusion of functionality and elegance also doubles as enchanting Vintage Wedding Favors. Each piece is meticulously crafted to mirror the allure of genuine antique skeleton keys, emanating an air of mystery and intricate detailing that transports you to a more refined era.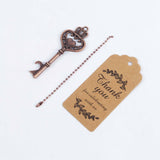 Antique Gold Bottle Opener Wedding Favors
Crafted from robust metal, every bottle opener is designed to withstand the test of time, much like the nostalgia it awakens. The distinguished patina and intricate patterns pay homage to the craftsmanship of eras long past, bestowing an authentic touch upon your celebration. But these openers are more than mere tools; they're intricate metal masterpieces with stories waiting to be shared. Complementing vintage themes flawlessly, our included Escort Tag Cards provide a distinctive way to convey your gratitude to your guests.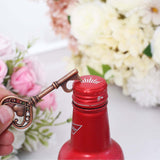 Vintage Wedding Bridal Shower Favors
The artisanal aesthetic ensures that this isn't just a favor; it's a cherished keepsake that resonates with the past. Imagine the delight of your guests as they hold this ornate key, tracing its patterns and feeling the weight that carries stories from another time. The Antique Skeleton Key Bottle Opener isn't solely a favor; it's a tangible connection to the romanticism of days gone by, a functional treasure, and a heartfelt token. Elevate your event with this masterpiece of vintage charm. Secure your order today to gift your guests a timeless piece that ensures your wedding lives on in their hearts.
Additional Information:
Additional information:
You can write what you want to say, name, date and best wishes in the blank space of the Tag Card
Uses: Weddings, Birthdays, Christmas, BBQ,Banquets, Graduation Ceremonies, Housewarming, Baby Showers, Retirement, Anniversaries, Oktoberfest, Promotional Meetings, Social Parties, etc.