$
6
.99
$10.99
Save $4.00
4 Pack Gold Metal Hollow Sun Flower Napkin Rings, Modern Flower Shaped Napkin Bands
SKU: NAP_RING45_GOLD
Free Shipping $49.00 to get Free Shipping
Free Shipping for Orders $49+ in the contiguous 48 US States. (Excludes AK, HI, US Territories, APO/FPO, International Countries)
Please enter your address in checkout for special shipping rate, UPS does not deliver to PO Box.
Quantity: 4 Napkin Rings
Material: Metal
Color: Gold
Style: Hollow Sun Flower
Total Size: 1.75"L x 2.5"W
Ring Diameter: 1.75"
Flower Diameter: 2.5"
Click Here for our Napkin Collection
Information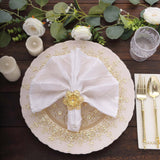 Gold Metal Modern Napkin Rings
Elevate your dining experience to a realm of unparalleled elegance with our exquisite Gold Metal Hollow Sun Flower Napkin Rings – a harmonious fusion of functionality and sophistication. These floral serviette buckle holders are meticulously crafted to bestow a touch of natural beauty and opulence upon your table setting. With precision as our guiding principle, each napkin ring boasts an intricate sunflower design that radiates timeless charm and enduring grace.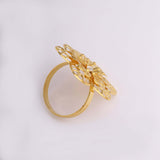 Gold Hollow Sun Flower Napkin Rings
Whether you're orchestrating an intimate dinner soirée, a grand wedding reception, or a joyful holiday gathering, these napkin rings are the ultimate choice to harmonize with your decor. The resplendent gold finish not only captures and dances with the light but also imparts a sense of warmth and luxury to your dining experience. In addition to their aesthetic appeal, they perform their function seamlessly, securely holding your napkins in place to ensure that your table setting remains as impeccable as your culinary creations.
Gold Flower Shaped Napkin Bands
The hollow sunflower design not only delights the eye but also invites you to personalize your table decor by inserting napkins of various colors or patterns. These napkin rings constitute the finishing touch that elevates your dining experience, imprinting a lasting impression upon your guests. With our Gold Metal Hollow Sun Flower Napkin Rings, every meal becomes an unforgettable occasion marked by beauty and elegance, where your table setting is as delectable as the dishes you serve.
Additional Information:
Perfectly goes with our wide selection of Napkins
Easy to Clean: Wipe clean with damp cloth.

Uses: Perfect for Wedding Receptions, Birthday Party, Bridal Shower, Ladies Luncheons, Tea Parties, Engagement Party, Mis Quince, Sweet 16, Farmhouse Style decor, Fall Table decor, Holidays, Christmas decor and more.