$
23
.99
$37.99
Save $14.00
8ft Gold Spandex Fitted U-Shaped Wedding Arch Cover With Shimmer Tinsel Finish, Double-Sided Open Arch Backdrop Slipcover
SKU: IRON_STND18_23_L_GOLD
Free Shipping $49.00 to get Free Shipping
Free Shipping for Orders $49+ in the contiguous 48 US States. (Excludes AK, HI, US Territories, APO/FPO, International Countries)
Please enter your address in checkout for special shipping rate, UPS does not deliver to PO Box.
Quantity: 1 Backdrop Stand Cover
Material: Shimmer Tinsel Spandex
Color: Gold
Style: U-Shaped
Total Height (Stretched): 8ft
Total Width: 11"
Feature: Premium Quality Spandex, Wrinkle Resistant, Durable, Reusable
Pullover cover to get a snug fit
Information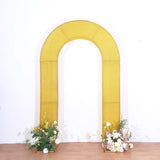 Gold Shimmer Tinsel Spandex Wedding Backdrop Cover
Step into a world of shimmering opulence with our Gold Shimmer Tinsel Stretch Spandex Open Arch Backdrop Cover. Imagine a backdrop that not only frames moments but transforms them into unforgettable memories. This isn't just a cover; it's a gateway to a realm where sophistication meets versatility. With its dazzling gold shimmer tinsel fabric, this cover doesn't just create a backdrop; it crafts an experience that radiates glamour and allure.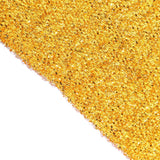 Gold Double-Sided U-Shaped Arch Slipcover
Crafted to perfection, this backdrop cover isn't just a static piece – it's an expression of your event's identity. The stretch spandex material ensures a seamless fit over your archway, embracing every curve with a touch of elegance. The double-sided design offers not one, but two captivating looks, effortlessly adapting to your event's theme or mood. And with the ingenious U-shaped design, installation is no longer a hassle; it's a moment to revel in the simplicity and ingenuity of great design.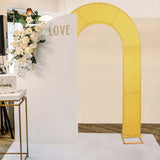 Gold Fitted Open Arch Cover
Elevate your event to a symphony of luxury with the Gold Shimmer Tinsel Stretch Spandex Open Arch Backdrop Cover. Immerse your guests in an atmosphere that resonates with your unique style, and watch as their eyes light up with admiration. Let this backdrop cover be the canvas upon which you paint unforgettable memories, all while basking in the glow of its shimmering golden embrace.
Additional Information:
Order is for Wedding Arch Cover only. Stands or other accessories are not included.
Uses: Wedding Decoration, Ceremony, Party Decor, Baby Shower, Shopping Mall, Stores, Home Decor