10",19",27" | Set of 10
Set of 10 | White Daisy Flower-Shaped Mylar Foil Balloons, Assorted Floral Balloon Party Decorations with Balloon Dots - 10", 19", 27"
SKU: BLOON_FOL0025_SET_WHT
Free Shipping $49.00 to get Free Shipping
Free Shipping for Orders $49+ in the contiguous 48 US States. (Excludes AK, HI, US Territories, APO/FPO, International Countries)
Please enter your address in checkout for special shipping rate, UPS does not deliver to PO Box.
Quantity: Set of 10 Flower Balloons (Assorted Sizes)

Material: Mylar Foil
Color: White | Yellow
Style: Daisy Shaped Balloons
Overall Size (Inflated):

4x Small Balloons: 10"L x 10"W
4x Medium Balloons: 19"L x 19"W
2x Large Balloons: 27"L x 27"W
Accessory: 15x Balloon Dots
Inflate balloons and paste or hang them on walls using double-sided tapes

Features: High quality foil , self-seal, leak-proof, durable, reusable
Information
White Daisy Flower Shaped Balloons
Step into a whimsical world of floral wonder with our captivating Daisy Flower Shaped Mylar Foil Balloons. Each balloon is meticulously crafted to embody the delicate beauty and vibrancy of daisies, showcasing lifelike details that will leave you in awe. These balloons are the perfect addition to any occasion, infusing a touch of nature's magic and adding a burst of color to your event decor.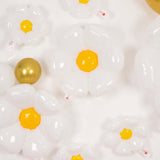 White Mylar Foil Party Balloons
Watch as these daisy balloons gracefully sway and dance in the air, mesmerizing your guests with their radiant charm. Crafted from high-quality mylar foil, these balloons maintain their shape and vibrant hues, ensuring they remain a vibrant part of your celebration for an extended period. Whether you're hosting a birthday bash, a whimsical wedding, or a garden-themed party, these daisy balloons instantly elevate the atmosphere, creating an enchanting ambiance that lingers in the memories of all who attend.
Assorted Floral Balloon Decorations
Setting up these daisy flower balloons is a breeze, thanks to their user-friendly design and convenient self-sealing valve. Inflate them with air or helium, and they effortlessly float, suspended in mid-air like a glorious bouquet of blooming daisies. Bring the allure of nature's beauty to your next celebration with our exquisite Daisy Flower Shaped Mylar Foil Balloons. Let the enchantment of these vibrant flowers fill your special moments with joy, cheer, and an unforgettable touch of whimsy.
Additional Information:
Recommended Inflatable Tools:

To inflate inject air or helium along the air hole, inflate to about 90%, and then seal the air hole with the seal that comes with it.
To deflate, insert the straw again into the valve and slowly and gently squeeze the air out of the balloons, fold them up, and store them away from direct sunlight.

Can also inflate it with an air filler or helium tank
Balloons are shipped flat for easy shipping & storage

Note: Please don't inflate too much gas to avoid exploding
Uses: Weddings, Engagements, Birthdays, Holidays, Christmas Parties, Graduations, Baby Showers, Valentine's Day, Photoshoots, etc