12"x108" Royal Blue Taffeta Flocking Table Runner
SKU: RUN_FLK_ROY
Free Shipping $49.00 to get Free Shipping
Free Shipping for Orders $49+ in the contiguous 48 US States. (Excludes AK, HI, US Territories, APO/FPO, International Countries)
Please enter your address in checkout for special shipping rate, UPS does not deliver to PO Box.
Quantity: 1 Table Runner
Measurements: 12" W x 108" L
Material: Taffeta Flocking
Color: Royal Blue
Seamless, 1 pc design. Edges are hemmed.
Information
Royal Blue Table Runner
Unleash the regal charm at your event with our exquisite Royal Blue Taffeta Damask Flocking Table Runner. This seamless masterpiece is designed to elevate your decor to new heights, exuding sophistication and luxury with every detail. Crafted with meticulous precision, the edges are elegantly hemmed to ensure a flawless finish that leaves a lasting impression on your guests. The table runner's striking damask flocking pattern adds a touch of opulence, making it the perfect centerpiece for weddings, banquets, corporate galas, and any event deserving of a touch of grandeur.
Royal Blue Taffeta Damask Flocking Table Runner
Bring an air of majesty to your wedding reception by adorning each guest table with the royal blue taffeta damask flocking table runner. Complement the runner with gold-accented centerpieces and fine crystalware for an extravagant and timeless ambiance. Create a mesmerizing contrast by pairing it with ivory or silver linens, infusing the setting with elegance and flair. For a lavish corporate event, make a statement by draping the table runner across the head table. Accompany it with lush floral arrangements and plush velvet chair covers to create an atmosphere of power and prestige. The damask flocking pattern will add depth and visual interest to the overall design, leaving your guests enthralled throughout the evening.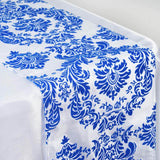 Royal Blue Decorative Table Runner
Let your imagination run wild with the Royal Blue Taffeta Damask Flocking Table Runner. Embrace its luxurious charm at holiday gatherings, anniversaries, or formal family dinners. Celebrate special occasions by adorning buffet tables, cake tables, or gift tables, making them stand out with a touch of royal elegance. Whether it's a classic ballroom affair or an intimate garden celebration, this table runner will always be a captivating addition, transforming any setting into a majestic display of style and refinement. Elevate your events to a whole new level with this timeless piece that brings the allure of royalty to your decor.
Additional Information:
How to Care: Dry clean only.

Uses: Make your Tables More Dazzling that can be used in Hotel, Restaurants for Holiday Celebration, Bridal and Baby Shower, Wedding, Buffets, Dessert Tables, Catered Events, Reunions, Workshops, Anniversaries, Corporate Events.