$
59
.99
$95.99
Save $36.00
120" Rose Gold Wave Mesh Round Tablecloth With Embroidered Sequins
SKU: TAB_02_WAVE_120_046
Free Shipping $49.00 to get Free Shipping
Free Shipping for Orders $49+ in the contiguous 48 US States. (Excludes AK, HI, US Territories, APO/FPO, International Countries)
Please enter your address in checkout for special shipping rate, UPS does not deliver to PO Box.
Quantity: 1 Round Tablecloth

Material: Sequin on Mesh Base

Color: Rose Gold
Style: Sparkly Wave Pattern
Size: 120" Round

Edges: Hemmed
Gives floor length hang on standard 5ft (60") round table.

Seamless, 1pc design

Information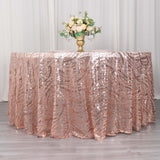 Rose Gold Round Sequin Tablecloth
Elevate your tablescapes with a touch of opulence and glamour using our Wave Embroidered Sequin Tablecloth. Prepare to be captivated by the mesmerizing beauty of this exquisite round tablecloth that effortlessly combines sparkle and elegance. With its unique wavy sequin pattern on a delicate mesh base, this tablecloth is a true showstopper that will leave your guests in awe.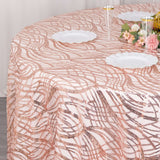 Rose Gold Wave Pattern Tablecloth
Unleash your creativity with our sparkly Wave Embroidered Sequin Tablecloth. It serves as a blank canvas for your imagination, inviting you to personalize your table setting with centerpieces, flower arrangements, or even LED lighting effects. With its seamless design, this tablecloth offers a flawless and sleek look. No unsightly seams or gaps disrupt the enchanting flow of the wavy sequin pattern, creating a cohesive and sophisticated appearance. It effortlessly drapes over your table, transforming it into a resplendent centerpiece that exudes elegance and refinement. The lightweight mesh fabric allows for effortless handling, while the careful construction ensures that the sequins stay securely in place, preventing any unwanted shedding. Let your event reflect your unique style and taste, and watch as this stunning table cover amplifies the elegance and glamour of your vision.
Rose Gold Wave Embroidered Sequin Tablecloth
Crafted with meticulous attention to detail, this seamless tablecloth features a stunning wave embroidery design that adds a dynamic visual element to your table setting. The shimmering sequins, delicately sewn onto the mesh fabric, create a captivating play of light that instantly transforms any ordinary table into a luxurious focal point. Whether you're hosting a grand wedding reception, a lavish gala, or an intimate dinner party, this tablecloth is the perfect choice to infuse your event with a touch of splendor.
Additional Information:
Listing is for Round Tablecloth Only, Other decorations are not included.
How to Care: Hand wash or spot clean with a soft damp cloth. Do not dry clean or machine wash.

Uses: Perfect for any Themed Events, Hotels, Restaurants, Catering Services, Wedding, Parties, Anniversaries, Corporate Events, Receptions, Decorate Backdrops, and Arches.