16" Large Silver Foam Disco Mirror Ball With Hanging Swivel Ring, Holiday Party Decor
Item Number :FOAM_BALL_MIR_16
---
QTY: 1 Disco Ball
Style: Glass Mirrored Disco Ball
Material: Foam & Mirror

Color: Silver
Ball Diameter: 16" 
Comes with a 1" Metal Hanging String
Tiny Mirrors reflect lights beautifully across the walls and ceiling
More Details
Information

Information

Reviews
Additional Information:
QTY:

1 Disco Ball



Material: Foam & Mirror

Color: Silver

Ball Diameter: 16"
Inclusions: 1" Metal Hanging String

Tiny Mirrors reflect lights beautifully across the walls and ceiling

Uses: Can be used in 70's disco party, dance party, wedding, birthday party, and Christmas tree decoration.
Customer Reviews
Write a Review
Ask a Question
Filter Reviews:
disco ball
price
purchase
light
quality
problem
shipping
manner
customer service
glass
07/26/2022
Jennifer G.

United States
07/01/2022
Marlene C.

United States
02/05/2022
Rhianna

United States
Super great!
Amazing! I live in Key West, FL and hung my disco ball on a large branch above my deck. It reflects light into my bedroom doors in the morning, which has greatly enhanced the waking up experience. We recently had wind storms with up to 50 mph gusts, rain, and temperature drops from 80's to low 50's. This ball held up no problem! It's much lighter than you'd imagine, and the swivel on top is very strong and well made. Tree branches down all over, and the ball is just smiling away up there. (We hung it with thin cable using a crimping tool). Really worth the money. Don't even get me started on the atmosphere once you add a couple lasers at night. See photos, you won't be disappointed :)
12/28/2020
Tom M.

United States
Spin it to ELO's "Sweet Talkin' Woman" OR Preston "Will It Go Round in Circles"
I couldn't believe it arrived all the way from Cheena undamaged. You'll also need a fishing line swivel for a smooth rotation and some direct beam flashlights in colors. https://www.amazon.com/gp/product/B085GD8BKG/ref=ppx_od_dt_b_asin_title_s01?ie=UTF8&psc=1 BIG CHRISTMAS HIT.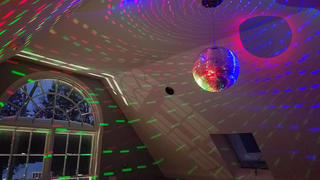 05/29/2020
Taylor R.

United States
10/14/2019
Jacklynn L.

United States
06/22/2019
Rachel C.

United States
16" mirror ball
The quality for this price is great. And free shipping is a plus.
11/03/2021
Karen O.

United States
Outdoor disco
I'm very impressed with this mirror ball. I got it to hang above the skeleton disco in my Halloween yard, even though I know it wasn't made for weather. It hung from the tree for 6 weeks, regardless of high winds and hard rains. I took it down yesterday and was genuinely shocked that it looks exactly like it did when I first unwrapped it. The quality is excellent!
07/07/2021
Rebecca H.

United States
Shine
Fabulous! Lightweight and easy to hang.