2 Pack | 18" | Gold Reusable Round Sphere Vinyl Balloons | UV protected
Item Number:BLOON_VIN0001_18_GOLD
$2.79

$2.79

(Only $1.39 each balloon)
---
QTY: 2 Balloons
Material: Vinyl
Color: Gold
Shape: Sphere Balloon
Product Diameter: 18"
Long-lasting, UV-resistant vinyl won't fade, discolor or become brittle in cold weather
All sizes are approximate measurements
Due to different light settings the actual color might vary a bit from the pictures.
More Details
Information
Information
Reviews
Vibrant Vinyl Balloons:

Decorate your party space in the colors of fun and festivity with our vibrant vinyl balloons. Featuring glossy finish and classic spherical shape, these balls of glory will take your event decoration to the next level. Get the balloons inflated in no time with our Balloon Hand Pumps or Portable Electric Air Blower Balloon Pump Inflators. 
High Quality & Reusable:

High quality and hard wearing vinyl construction makes these balloons durable and reusable. Use these time and time again with the same lovely luster to impart a timeless elegance to your Birthdays, Weddings, Holiday Functions, Showers, Promotions, and other festive events. Our vinyl balloons are long-lasting and UV-Resistant which means the color will not fade, discolor or become brittle even in cold weather.

     
Show your creativity | DIY:

For a truly eye-catching display, pair these beauties with our Mylar or Latex Balloons, Balloon Numbers & Letters, and Balloon Figurines. Either hang from Trees and Garland, or attach to Balloon Arches and Poles, make gorgeous Balloon Bouquets, Balloon Centerpieces, Balloon Decorations, and more!
Additional Information:
Balloons are shipped uninflated
All sizes are approximate measurements
Note: The balloons are reusable! Just insert a straw into the valve and squeeze the air or helium out of the balloons, fold them up and store them away from direct sunlight. Additionally, it helps to use an Air Pump to continually put the air for a more solid round look for the item.

Customer Reviews
Write a Review
Ask a Question
Filter Reviews:
balloon arch
baby shower
gold
colors
people
picture
01/06/2020
Amanda H.
United States
12/07/2019
Cynthia V.
United States
satisfied but not satisfied
This is my first time buying Gold Vinyl balloons, have purchased clear before and never had a problem when blowing them up. The gold balloons ripped, had a hole and would pop if not super careful when blowing up. Luckily I ordered more than I needed...because I needed them! Aside from all that they looked beautiful!!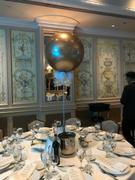 02/29/2020
Luisa T.
United States
Sweet 16 party
Great quality! The balloons were so pretty! I would totally buy my products from Tablecloths factory again.
12/23/2019
Shannon E.
United States
Undecided
One of four still remain. I popped one trying to blow it up, one popped on its own outside, one didn't hold air and is still slowly deflating. I was afraid their odd shape wouldn't straighten out, but they did. Mostly round.
09/27/2019
Sarah L.
United States
Loved the colors
Colors were great! Don't over fill. They can rip and tear easily if they're too full. Otherwise they're really great people big just like the picture.