34"x7" | 5 Pack
$
8
.99
$13.99
Save $5.00
(0)
5 Pack Burgundy Curly Willow Chiffon Satin Chair Sashes
SKU: SASH_STN03_BURG
Free Shipping $49.00 to get Free Shipping
Free Shipping for Orders $49+ in the contiguous 48 US States. (Excludes AK, HI, US Territories, APO/FPO, International Countries)
Please enter your address in checkout for special shipping rate, UPS does not deliver to PO Box.
Quantity: 5 Chair Sashes (10 strands make 1 Sash)
Material: Chiffon | Satin
Color: Burgundy
Style: Curly Willow
Overall Size: 34" Long x 7"Wide
Total Strands: 50
Easily tie on any chair type
Note: Listing is for Curly Willow Strands Only. Other accessories not included.
Information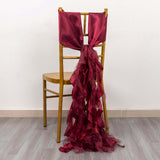 Burgundy Curly Willow Chair Sashes
Elevate your event decor to a whole new level of elegance with our Burgundy Curly Willow Satin Chiffon Chair Sashes. These enchanting chair sashes aren't just accessories; they're transformative pieces of art that will turn your ordinary chairs into captivating thrones. The deep and rich burgundy hue, reminiscent of fine wine, adds a touch of sophistication to any occasion, making it perfect for weddings, galas, and upscale parties.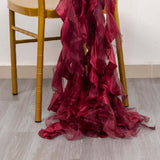 Burgundy Chiffon Satin Chair Sashes
Crafted with meticulous attention to detail, the Curly Willow Satin Chiffon Chair Sashes boast a harmonious blend of textures. The satin base provides a luxurious sheen, while the whimsical curly willow overlay adds a sense of movement and playfulness. Picture these sashes cascading down the back of your chairs like a waterfall of elegance, instantly creating an inviting atmosphere that resonates with charm and grace. Whether you're aiming for a romantic fairytale ambiance or a vintage-inspired aesthetic, these sashes are versatile enough to complement various themes and styles.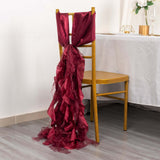 Whimsical Spiral Design Chair Sashes
Step into a world where every chair becomes a canvas for creativity and luxury. The Burgundy Curly Willow Satin Chiffon Chair Sashes redefine event decoration by infusing each chair with a touch of magic. Don't settle for ordinary – let these sashes drape your chairs with a mesmerizing dance of burgundy and satin, ensuring that your event remains an unforgettable masterpiece in the hearts of your guests for years to come.
Additional Information:
How to Care: Hand wash in cold water, gently squeeze out any excess water and lay it flat to dry.

Sashes are shipped in a folded, compressed form. In order to achieve full, fluffy look, you must use your fingers to comb through the strands of  Curly Willow material.

Uses: Wedding, Party, Event, Banquet, Decoration