34"x7" | 5 Pack
$
8
.99
$13.99
Save $5.00
(0)
5 Pack Cinnamon Rose Curly Willow Chiffon Satin Chair Sashes
SKU: SASH_STN03_CRS
Free Shipping $49.00 to get Free Shipping
Free Shipping for Orders $49+ in the contiguous 48 US States. (Excludes AK, HI, US Territories, APO/FPO, International Countries)
Please enter your address in checkout for special shipping rate, UPS does not deliver to PO Box.
Quantity: 5 Chair Sashes (10 strands make 1 Sash)
Material: Chiffon | Satin
Color: Cinnamon Rose
Style: Curly Willow
Overall Size: 34" Long x 7"Wide
Total Strands: 50
Easily tie on any chair type
Note: Listing is for Curly Willow Strands Only. Other accessories not included.
Information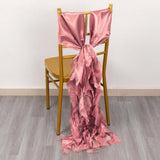 Cinnamon Rose Curly Willow Chair Sashes
Introducing the captivating Cinnamon Rose Curly Willow Chiffon Satin Chair Sashes – a masterpiece of design that infuses your wedding chairs with a rich blend of romance and sophistication. These chair back embellishments are a testament to refined elegance, as sumptuous cinnamon rose satin ribbons elegantly entwine with the whimsical dance of curly willow strands. Elevate your wedding decor with a touch of warmth and allure, as these sashes effortlessly transform each chair into a canvas of artistry that radiates love and enchantment.
Cinnamon Rose Chiffon Satin Chair Sashes
The Cinnamon Rose Curly Willow Chiffon Satin Chair Sashes bring a sense of passion and grace to your celebration, embodying the essence of love in every fold and curve. The enticing cinnamon rose hue symbolizes deep affection and commitment, making them an ideal choice for weddings that radiate emotional significance. Whether adorning classic ceremony seating or enhancing the charm of reception chairs, these sashes seamlessly integrate with various themes, creating an atmosphere that captures the heart and imagination.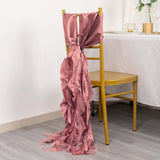 Whimsical Spiral Design Chair Sashes
Meticulously crafted to captivate attention, these sashes empower you to unleash your creative flair. From elegant knots to cascading drapes, the versatile design adapts to your vision, allowing you to express your unique style. As the curly willow sways and satin ribbons glimmer, the Cinnamon Rose Curly Willow Chiffon Satin Chair Sashes envelop your event in an aura of tenderness and beauty. Let each chair tell a story of devotion, as these exquisite adornments become an integral part of your wedding day narrative.
Additional Information:
How to Care: Hand wash in cold water, gently squeeze out any excess water and lay it flat to dry.

Sashes are shipped in a folded, compressed form. In order to achieve full, fluffy look, you must use your fingers to comb through the strands of  Curly Willow material.

Uses: Wedding, Party, Event, Banquet, Decoration