34"x7" | 5 Pack
$
8
.99
$13.99
Save $5.00
5 Pack Ivory Curly Willow Chiffon Satin Chair Sashes
SKU: SASH_STN03_IVR
Free Shipping $49.00 to get Free Shipping
Free Shipping for Orders $49+ in the contiguous 48 US States. (Excludes AK, HI, US Territories, APO/FPO, International Countries)
Please enter your address in checkout for special shipping rate, UPS does not deliver to PO Box.
Quantity: 5 Chair Sashes (10 strands make 1 Sash)
Material: Chiffon | Satin
Color: Ivory
Style: Curly Willow
Overall Size: 34" Long x 7"Wide
Total Strands: 50
Easily tie on any chair type
Note: Listing is for Curly Willow Strands Only. Other accessories not included.
Information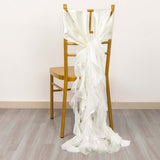 Ivory Curly Willow Chair Sashes
Introducing an exquisite touch of sophistication - the Ivory Curly Willow Satin Chiffon Chair Sashes. These aren't just chair decorations; they're the embodiment of elegance and artistic flair, designed to elevate your wedding or special occasion into a realm of timeless beauty. Picture your venue chairs adorned with these graceful ivory cascades, each sash meticulously crafted to capture the essence of a willow tree's delicate branches. The satin ribbons exude a luxurious sheen, reminiscent of moonlit whispers, while the tutu-style arrangement adds a unique texture that dances with light. Your chairs will no longer be mere seating; they'll become a canvas for a story of opulence and charm.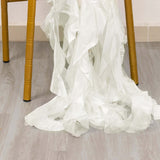 Ivory Chiffon Satin Chair Sashes
Indulge in the luxury of transforming your event space with the Ivory Curly Willow Satin Chiffon Chair Sashes. Whether your celebration is a romantic garden affair or a chic indoor gala, these sashes seamlessly blend elegance with a touch of fantasy. Draped over chairs, they create an enchanting visual symphony, reflecting light like glistening morning dew. Every guest will be captivated by the harmonious fusion of sophistication and whimsy, transforming your venue into a dreamlike sanctuary. The essence of your event will be captured in every photograph, the bride and groom framed by a sea of ivory ripples, like a scene from a fairy tale.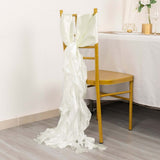 Whimsical Spiral Design Chair Sashes
Your event deserves nothing less than perfection, and the Ivory Curly Willow Satin Chiffon Chair Sashes deliver just that. Infused with meticulous craftsmanship and a commitment to beauty, they're more than decorations; they're an extension of your artistic vision. Create memories that will be treasured for a lifetime, as these chair sashes become an integral part of your celebration's narrative. Embrace the essence of elegance, and let your chairs become thrones that whisper stories of grace and grandeur, ensuring that your event is a masterpiece painted with moments of sheer beauty.
Additional Information:
How to Care: Hand wash in cold water, gently squeeze out any excess water and lay it flat to dry.

Sashes are shipped in a folded, compressed form. In order to achieve full, fluffy look, you must use your fingers to comb through the strands of  Curly Willow material.

Uses: Wedding, Party, Event, Banquet, Decoration