Pack of 5 | KN95 Mask | Protective 5 Layer PPE Face Masks with Adjustable Soft Ear Loops
Item Number:CARE_MASK02
---
Material: Non Woven, Microfiber (MELT-BLOWN) 
1 Qty: 5 KN95 Face Mask
Color: White
5 Layer Filters
Elastic Soft Adjustable Ear-loops
Size: Universal Use 
Anti Dust and Anti Smog
FDA Approved
Disposable & Non Washable in nature.
Protects from Dusts, Splash, Droplets and other harmful particles in the air
Comfortable, Breathable, Soft and Skin-friendly, and Easy to use
Note: Due to very high demand, the masks are getting finished soon, so you can get any one of the designs: Nose Clip outside or Nose Clip inside the woven Layer.

More Details
Information
Information
Reviews
KN95 Mask:


Ensuring maximum protection and higher safety against harmful airborne particles and contamination, KN95 face mask can efficiently filter non-oily particles in the air, up to 95%. Featuring high-quality material construction and multiple layers to provide superior respiratory defense, these safety masks stick on your face firmly, yet comfortably, covering from nose to chin to protect against germs, droplets, air pollutants, dust infections, and other harmful airborne particles.
5 Layer Face Mask:


Keep the infection at bay by using these KN95 disposable protective face mask masks that not only ensure maximum respiration security but are very comfortable to wear as well. Having qualities of being antibacterial, anti-virus, anti-dust, anti-smog, and anti-formaldehyde, our disposable safety masks are specially designed to secure you and your loved ones from harmful infections, particularly when you are outdoors and are equally efficient for domestic and professional use. With flexible elastic soft ear loops and adjustable nose clip, these soft and skin-friendly face masks are highly comfortable and breathable, and can effortlessly fit different face shapes and sizes.
Reduce Risk:


Crafted to form a barrier against contaminants and droplets, KN95 masks are equally effectual for a healthy person by avoiding direct contact with the virus-related droplets. These sanitary masks help you keep safe and protected by preventing infections from entering the oral and nasal space. Wearing PPE face masks significantly reduces viral transmission and helps in flattening out the curve.
Method Of Use:

The nose clip part is facing up, the side without nose clip is facing the face, and the ear straps are pulled on each hand.

Face the mask against the chin first, and pull the ear band back to the ear and hang it on the ear until it feels comfortable.

Place the fingers of both hands in the middle of the nose clip and press inwardly according to the shape of the nose bridge to conform to the shape of the nose bridge.

Put your hands on your face when using, and check the tightness with your face.
Non Woven, Meltblown Material 5-Layer Protective Filtering:

1st Layer > PP non-woven fabric insulation Layer : Block large particles or microorganisms
2nd Layer > Filter Sponge : Enhanced Filtration of fine particles
3rd & 4th Layer > Double 25+25 Meltblown Cloth : Filters even finer particles
5th Layer > Accessible skin-friendly layer : Non-woven soft and skin friendly 
Product Features :

KN95 Face Mask filtration efficiency (dust-removing rate) is more than 95% for non-oily particulate matter, and the filter material is harmless to the human body.
High elastic ear loops are comfortable and not tight.
Adjustable nosepiece helps mask covers the user's face fittingly.
Solid ultrasonic spot welding edge pressing for strong ear loop and beautiful shape.  
Common Uses:
These should be used when you visit hospitals, crowded places. These can be used by people who are more vulnerable; old people, kids and people with health issues. KN95 Face Mask can be disinfected by using alcohol, but that takes down the effectiveness of the masks. Another way is to simply let them sit dry. However, considering the environment we all are living in, we recommend to discard the mask after you visit hospitals or crowded places.
NOTE: 
Do Not Share KN95 Face Mask

If you are having trouble breathing, or the masks gets soiled, please discard the mask immediately and replace it with a new one.

Due to very high demand, the masks are getting finished soon, so you can get any one of the designs: Nose Clip Outside Or Nose Clip inside the woven Layer.

Due to Hygiene Issues, we cannot accept any returns / exchanges / refund on this product.
Customer Reviews
Write a Review
Ask a Question
Filter Reviews:
mask
price
quality
delivery
company
face
Order
shipping
problem
nose
09/11/2020
Barbara C.
United States
KN95 masks
They are great fitting, easy to put on, can be worn several hours in a row with comfort, easy to breathe thru, but very effectively filtering. I can't do sniff tests on fruit while wearing mask because it does its job as well as the N95 mask I used when doing my job as an RN. Highly recommend these masks.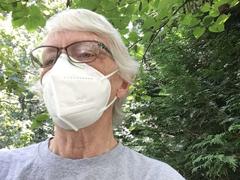 06/10/2020
Dalia f.
United States
12/03/2020
Deborah M.
United States
Very satisfied
I can easily breathe in this mask so much better
11/24/2020
William H.
United States
Quality Masks
My initial use of these KN95 masks is OK. They seem to be well constructed. So far no broken straps or holes in the ultrasonic weld joints. Breathability is about the same as other KN95 masks. I would order these again.
11/21/2020
Erjon T.
United States
Mask
Fast shipping, great masks..
11/17/2020
Bonnie A.
United States
N95 Face Mask
I appreciate that they arrived in a timely manner and I've shared them with my family members.
11/06/2020
Lori P.
United States
Nice fit
These fit nicely and are a much better price than anywhere else.
10/31/2020
MARY W.
United States
I like these the best, less anxiety and breathing issues.
I can breath better with this type of mask versus the straight across the face. I order enough to give one to anyone that comes in my house for any reason. Family, friend, delivery or service calls. I never leave the house without having mask on since I have been approached getting in and out of my car.
10/26/2020
Lynda M.
United States
Recommend
These are nice disposable mask. Comfortable and do the job . Will buy again
10/24/2020
eugene h.
United States
Battle zone
Love the thickness and strength of this heavy duty protective skin.