$65.99
$113.99
Save $48.00
600 Watt Professional Photography Photo Video Portrait Studio Day Light Umbrella Continuous Lighting Kit
Item Number :PHOTO_LGT_007
---
What you will get:
(2x) High Quality 7 Ft Light Stands
(1x) High Quality Miniature Light Stand
(3x) Single Light Bulb Holder
(2

x)

Hight Quality 33" White Soft Umbrella Reflector
(3

x) 

45W Fluorescent Daylight Balanced Photo Light Bulb
(1x) 

Heavy Duty Carry Case bag
Adjustable from 2ft 8in to 6ft 2in

Incandescent Equivalent: 200 Watt

Total System Output is 600 Watt

More Details
Information

Information

Reviews
Embark on your photography venture with our amazing range of Photo Portrait studio lightning kits. Perfect for both apprentices and professionals, our photography lighting equipment will make your each portrait and photo a true masterpiece. Now, it is very easy to showcase your artistic flair with hassle-free, simple and quick installable photo gear, in addition to high competitive quality. Our Light Stand is designed to offer maximum support and is an ideal accessory for professional studio photography. This light stand is easy to set up and features lock system for quick and easy usage. These durable and compact stands can ideally be used on the studio, in the field, or on the road. Bright Light Bulbs are super luminous, perfect for lighting an entire room, a photo-shoot or a video production. Modern spiral shape coupled with bright illumination, make these bulbs perfect for Professional Photography. Soft white translucent umbrella helps in softening, broadening, and diffusing the light output. It can either be used as a shoot through or bounce light to reduce shadows and create a soft, even tones, and low contrast light. Our photography lightning kit is perfect for indoor studio photo shoot, outdoor field shooting and also for professional photography.
Additional Information:

1). Professional Hight Quality Light Stands:
Superior quality, pressure die-cast aluminum construction, an exceptionally strong yet lightweight stand
Solid locking capabilities with specially designed quick-release levers
Stands Extends to 86" high, Height is adjustable from 2ft 8in to 6ft 2in, 1/4" screw tip on the stem
Footprint is 2ft 6in to provide extra stability
Spring cushioned, Folds up quickly and easily
Max load of 7 lbs.
2). Miniature Light Stand:
Maximum 28" Tall heavy duty pressure die cast, black anodized aluminum light stand
Max Height: 2.3" Feet
Min Height: 1.4" Feet
Max Tube Diameter: 23.5 mm
Solid quick release levers
3). Professional Series Light Holders:  
Designed to hold bulbs up to 105 Watts
The adapter swivels in all directions  
You can use it as is or with the umbrella
4). Professional 33" White Studio Umbrellas:
Easy to assemble/disassemble, Thick Nylon Construction
5). 6500K Daylight Balanced Photo Light Bulbs:
45W Fluorescent Daylight Balanced Photo Light Bulb
Average Life: 10k Hours.
Incandescent Equivalent: 200 Watt, total system output is 600 Watt
CRI (Color Rendering Index ) > 84
Flicker-Free and UL listed
Customer Reviews
Write a Review
Ask a Question
Filter Reviews:
Order
event
needs
price
aspects
replacement bulbs
bulbs
photographer
ease
photo shoot
05/16/2021
Denise D.

United States
Mother's Day Event
This product is outstanding and well worth having at your next event it created a gorgeous photo room. The presence was exceptional and everyone loved it and I would do it again with a similar set up with this same lighting because it truly looked like a professional photo shoot. We were well pleased and I am glad we made the investment in the lighting.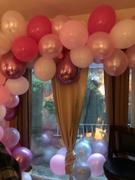 Great product, great price.
You should use LED lights instead of CFLS other than that, I loved the product.
06/03/2019
Megan M.

United States
Great budget buy!
Exceptional price, and product is better than expected! I am a natural light photographer, but had a need for an indoor shoot...this lighting setup was ideal for what I needed.
2.75 very good with a but....
although I am not a professional photographer. actually far from it. The kit i purchased is more than adequate for my needs, and can only comment on your services and policies. Two of the three bulbs were no good and you only offered a 15% refund instead of replacements, furthermore I had to research where to purchase the replacement bulbs. For this I am not sure if I would purchase from you again. however all other aspects of experience was very good. ease of placing order = 4.5 processing and shipping of order = 5 packing = 4.5 product =
Exactly What I expected
I was a little weary when I first ordered but when I received the item I was impressed. For the price this was a great deal. Served me well for an outside family gathering photo shoot. I only used the 2 umbrellas with speedlights. The stands were small enough to be out of the way and the umbrella provided nice soft lighting at a 15 foot distance.
Great for Beginners
These lights along with my backdrop stand made a great beginning setup for me and my projects. Would recommend to a friend.
Lights Camera Action
Great product, well designed, sturdy and very functional!
Lighting and backdrop
Love it❤️
I love the set
I love the set