White And Black Cloth Dinner Napkin With Wave Embroidered Sequins, Decorative Reusable Mesh Napkin - 20"x20"
SKU: NAP_02_WAVE_WHBK
Free Shipping $49.00 to get Free Shipping
Free Shipping for Orders $49+ in the contiguous 48 US States. (Excludes AK, HI, US Territories, APO/FPO, International Countries)
Please enter your address in checkout for special shipping rate, UPS does not deliver to PO Box.
Quantity: 1 Dinner Napkin
Material: Shiny Sequin Beads atop Tulle Net Fabric
Color: White / Black
Style: Sparkly Wave Pattern
Size: 20" x 20" ( Unfolded)
Edges: Hemmed
Seamless, 1pc design

Information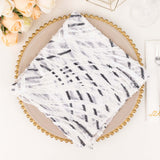 White And Black Wave Sequin Napkins
Experience the splendor of White Black Sparkle Wave Embroidered Sequin Mesh Dinner Napkins – a symphony of refinement and sophistication for your dining delight. Elevate each meal into a lavish affair with these exquisite napkins, meticulously crafted to infuse opulence into your table setting. The delicate interplay of black and white, adorned with captivating wave embroidery and shimmering sequins, conjures an enchanting visual display that will leave your guests in awe.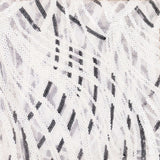 White And Black Embroidered Sequin Mesh Napkins
Beyond their captivating charm, these napkins offer remarkable functionality. Crafted from premium materials, they embody sustainability and eco-friendliness with their reusability. The expertly secured sequins promise an enduring sparkle throughout countless dinner parties, without compromising on durability. Grace your table with these stunning napkins, and watch as the shimmering waves weave an enthralling ambiance that perfectly complements any occasion – from intimate gatherings to grand celebrations.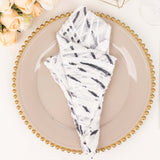 Sparkly Wave Pattern Napkins
Designed to infuse flair and grace into your dining experiences, these premium sequin cloth napkins epitomize luxury and practicality. Whether you're hosting a romantic dinner for two or an extravagant feast for friends and family, these table napkins are certain to leave a lasting impression. Set the stage for unforgettable moments with this uniquely alluring addition to your table decor, and let the beauty and charm of these napkins transport you and your guests to a world of timeless indulgence.
Additional Information:
Care Instruction: Hand wash or spot clean with a soft damp cloth. Do not dry clean or machine wash
Listing is for Dinner Napkin Only. Other accessories are not included.
Uses: Wedding ceremonies and receptions, bridal showers, baby showers, quinceaneras, anniversary parties, or any other special event.