10 Pack White Renaissance Disposable Salad Plates With Gold Navy Blue Chord Rim, Plastic Appetizer Dessert Plates - 7"
SKU: DSP_PLR0030_7_NVGD
Free Shipping $49.00 to get Free Shipping
Free Shipping for Orders $49+ in the contiguous 48 US States. (Excludes AK, HI, US Territories, APO/FPO, International Countries)
Please enter your address in checkout for special shipping rate, UPS does not deliver to PO Box.
Quantity: 10 Salad Plates
Material: Plastic
Color: White | Navy Blue | Gold
Style: Renaissance Style
Overall Diameter: 7.25"
Inner Diameter: 5"
Depth: 0.5"
Rim Width: 1"
Plate Thickness: 1mm
Features: Heavy Duty Plastic, Food Safe, Disposable, Reusable, Durable, Lightweight.
Information
White Navy Blue Renaissance Style Salad Plates
Elevate your upcoming dining affair with the sophistication of our exquisite White/Navy Blue and Gold Renaissance Style Plastic Salad Plates. Seamlessly merging timeless charm with contemporary convenience, these disposable appetizer plates are the quintessential addition to any event, from upscale weddings to extravagant galas. Crafted with meticulous attention to detail, each plate boasts a pristine white base adorned with intricate navy blue and gold patterns reminiscent of the Renaissance era, infusing an air of opulence into your table arrangement.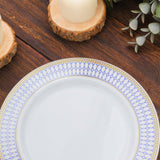 White Gold Rim Plastic Dessert Plates
Treat your esteemed guests to a luxurious dining experience without the encumbrance of post-event cleanup. These circular dessert plates not only captivate with their visual allure but also stand strong with their exceptional durability, crafted from high-quality plastic that effortlessly mirrors the delicacy of porcelain. The white canvas serves as a captivating backdrop for the elaborate navy blue and gold designs, fostering an ambiance of regal magnificence. Be it mouthwatering appetizers, decadent desserts, or refreshing salads, these plates provide an impeccable stage for your culinary masterpieces, ensuring every dish is presented as a work of art.
White Navy Blue Round Disposable Appetizer Plates
Mark your celebration with elegance and create an enduring impact with the White/Navy Blue and Gold Renaissance Style Plastic Salad Plates. Their user-friendly disposable nature ensures you dedicate more time to relishing the moment alongside your guests and less time grappling with cleanup. Elevate your event's aesthetic through the harmonious blend of classic and contemporary design, where the deep blue and lavish gold elements harmonize seamlessly with diverse decorative motifs. Cultivate an atmosphere of refined grace that encapsulates the essence of a bygone era, all while basking in the modern convenience these plates offer.
Additional Information:
Listing is for Dessert Plates Only. Other decorative accessories are not included.

Uses: Banquets, Anniversaries, Wedding Reception, Engagements, Birthdays, Baby Showers, Housewarming, Christmas Parties & Thanksgiving Parties. They are also ideal for Holiday Events, Corporate Gathering, Upscale Catering and Home Dinner.

WARNING: Not Microwave or Dishwasher Safe