$
17
.99
$28.99
Save $11.00
17" Tall Warm White 50LED Fairy Lighted Artificial Eucalyptus Tree, Battery Operated Tabletop Lighted Plant
SKU: LED_TREE02_GRN
Free Shipping $49.00 to get Free Shipping
Free Shipping for Orders $49+ in the contiguous 48 US States. (Excludes AK, HI, US Territories, APO/FPO, International Countries)
Please enter your address in checkout for special shipping rate, UPS does not deliver to PO Box.
Quantity: 1 LED Tree
Material: Plastic
Branch Color: Brown
LED Color: Warm White
Leaf Type: Eucalyptus
Overall Size: 13"W x 17"H
Base Size: 4"L x 4"W x 1"H
Leaf Size: 2.25"W x 2"H
Total LED: 50
Battery: 3AA Batteries (not included)
On/Off Switch: Found at the Base
Features: Lifelike Leaves & Bark, Lightweight, Sturdy, Bendable Branches.
Information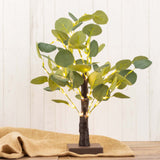 Artificial Eucalyptus Tree With String Lights
Embark on a captivating journey to a world of enchantment with our exquisite Tabletop Artificial Eucalyptus Tree, delicately adorned with warm white LED fairy string lights. Immerse yourself in the ethereal beauty of this mesmerizing bonsai tree, meticulously crafted to infuse your space with a touch of pure magic. With its lifelike eucalyptus leaves and gracefully delicate branches, this tree radiates a sense of tranquility and natural elegance, creating an enchanting ambiance that enchants all who behold it.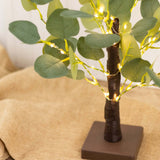 Warm White LED Fairy Lights
Bask in the warm and inviting glow as the LED fairy string lights delicately twinkle among the lush foliage. The soft and gentle radiance casts a soothing aura, making it an ideal choice for crafting a cozy atmosphere in bedrooms, living rooms, or even as a captivating centerpiece on your dining table. Powered by batteries, this lighted tree grants you the freedom to place it anywhere you desire, without the hassle of cords or outlets, allowing you to effortlessly elevate your decor with its ethereal glow.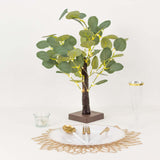 Bright Warm White Tabletop Lighted Tree
Beyond its mesmerizing beauty and convenient design, this artificial eucalyptus tree is skillfully constructed to withstand the test of time. Crafted with premium materials, it guarantees durability and longevity, ensuring that you can revel in its captivating charm for years to come. Immerse yourself in the allure of our faux eucalyptus tree, as it adds a touch of enchantment to your surroundings. Let its whimsical presence transform your space into a magical haven, where joy abounds and the imagination runs wild.
Additional Information:
Item is for LED Tree with Branches only. Other decorations are not included.
Uses: Weddings, Party, Birthday, Events, Table Decorations, Centerpieces, Spring, Christmas, Holiday Decor.