$
9
.99
$15.99
Save $6.00
(2)
200Pcs Assorted Rose Gold and Off White Lustrous Faux Pearl Beads Vase Fillers, No Hole DIY Craft Bead Set
SKU: BEAD_PRL_MIXRG
Free Shipping $49.00 to get Free Shipping
Free Shipping for Orders $49+ in the contiguous 48 US States. (Excludes AK, HI, US Territories, APO/FPO, International Countries)
Please enter your address in checkout for special shipping rate, UPS does not deliver to PO Box.
Quantity: 200 Pearl Beads
Material: Faux Pearls
Color: Rose Gold | Off White
Pearl Sizes
:
30mm (3x Blush, 3x Rose Gold, 4x Off White)
20mm (10x Blush, 10x Rose Gold, 10x Off White)
14mm (26x Blush, 27x Rose Gold, 27x Off White)
10mm (26x Blush, 27x Rose Gold, 27x Off White)
Features: High Quality Plastic, Smooth, Polished Surface, No Holes, Durable
Multi-Use: Vase Fillers, Wedding Decor, Makeup Brush Holder, DIY Crafts, and more!
Information
Assorted Rose Gold & Off White Beads Vase Fillers
Unleash the captivating allure of the ocean with our Lustrous Faux Pearl Beads Vase Fillers! Dive into a world of elegance and sophistication as you immerse your space in the enchanting beauty of these shimmering pearls. Crafted with meticulous attention to detail, each bead is flawlessly designed to mimic the ethereal radiance of genuine pearls, while offering an affordable and eco-friendly alternative.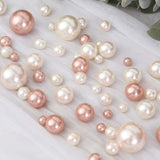 Assorted Rose Gold & Off White Lustrous Faux Pearl Beads
Bring a touch of opulence to any occasion with these versatile pearl vase fillers. Whether you're adorning a wedding table, creating a mesmerizing centerpiece for a gala, or simply adding a touch of charm to your home decor, these lustrous pearls will transform any setting into a realm of sublime sophistication. Their luminescent sheen casts a soft, romantic glow, captivating the beholder and leaving them spellbound.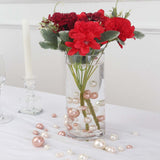 No Hole DIY Craft Bead Set
Not only are these faux pearl beads exquisitely beautiful, but they are also highly practical. Made from high-quality materials, they are lightweight and durable, ensuring long-lasting elegance for your displays. With their smooth and uniform shape, they are easy to handle and arrange, giving you the freedom to unleash your creativity and design breathtaking arrangements. Indulge your senses and create an ambiance of timeless elegance with our Lustrous Faux Pearl Beads.
Additional Information:
Tip: Although the Polished Pearls do not float on water, you may use transparent Water Gems (not included) in the water and place the pearls on top for a floating effect
Uses: Weddings, Baby Showers, Birthdays, Anniversaries, Home Decor and more!