$
7
.49
$11.99
Save $4.50
3 Pack Metallic Gold Decorative Faux Rose Flower Branches, Artificial Floral Sprays - 22"
SKU: ARTI_METLIC23_GOLD
Free Shipping $49.00 to get Free Shipping
Free Shipping for Orders $49+ in the contiguous 48 US States. (Excludes AK, HI, US Territories, APO/FPO, International Countries)
Please enter your address in checkout for special shipping rate, UPS does not deliver to PO Box.
Quantity: 3 Artificial Flower Branches
Flower Type: Rose
Material: Plastic
Color: Metallic Gold
Total Height: 22"
Stem Height: 11"
Each Rose Size: 2"Dia. x 1"H
Stem Thickness: 0.25"
Total Roses: 27 (9 roses per bouquet)
Flexible Plastic Stem: Inside wire makes it easy to bend and arrange to your liking
Features: Life-like, vibrantly colored, blooming, durable, great outdoor accent
Information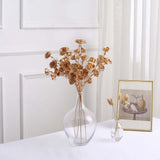 Metallic Gold Artificial Flower Sprays
Step into a world where elegance meets innovation with our mesmerizing Artificial Metallic Gold Mini Rose Flower Branches. Imagine the delicate charm of blooming roses, now elevated to a new level of extravagance. These branches are not just artificial flowers; they are a manifestation of nature's brilliance fused with artistic craftsmanship. The allure begins with the choice of nature's most iconic symbol, the rose, which is meticulously recreated in dazzling metallic gold. Each petal shimmers with a richness that catches the light from every angle, casting a warm and enchanting ambiance that's perfect for any occasion.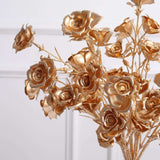 Metallic Gold Decorative Floral Branches
Crafted for those who dare to stand out, these gold rose sprays offer a touch of luxury that's effortlessly versatile. Adorn your living space with an everlasting garden of beauty, bringing the outdoors inside with a twist of sophistication. Arrange them in a vase for a centerpiece that captures attention, or let them grace your shelves, infusing a hint of gilded elegance. From weddings and celebrations to everyday indulgence, these branches are more than decorations; they are conversation starters, sources of inspiration, and reminders that even in the most unconventional forms, nature's allure remains eternal. With our Artificial Metallic Gold Mini Rose Flower Branches, redefine the way you experience the splendor of flowers and make your space a haven of contemporary style and timeless radiance.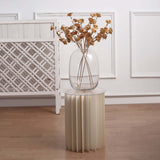 Metallic Gold Faux Rose Flowers
Embrace the blend of modern aesthetics and timeless beauty as you elevate your decor game with these Artificial Metallic Gold Mini Rose Floral Arrangement. The juxtaposition of the organic form of roses with the bold, metallic finish creates a visual masterpiece that resonates with both classic and contemporary tastes. Whether you're seeking to infuse your space with a touch of glamour or searching for a unique gift that encapsulates emotions, these branches transcend mere decoration to become emblematic of artistry and emotion. Illuminate your surroundings with the allure of nature's marvels, reimagined and refined in a captivating gold hue that will leave everyone in awe.
Additional Information:
The perfect accent and filler to complement your other flowers and greenery for a neutral yet exotic centerpiece.

Uses: Suitable for any landscaping project or decor style. Decorate the kitchen, windows box, living room, dining table, bedroom, patio, wedding and Christmas decorations, and other indoor outside places with these faux flowers shrubs