34"x7" | 5 Pack
$
8
.99
$13.99
Save $5.00
5 Pack Lavender Lilac Curly Willow Chiffon Satin Chair Sashes
SKU: SASH_STN03_LAV
Free Shipping $49.00 to get Free Shipping
Free Shipping for Orders $49+ in the contiguous 48 US States. (Excludes AK, HI, US Territories, APO/FPO, International Countries)
Please enter your address in checkout for special shipping rate, UPS does not deliver to PO Box.
Quantity: 5 Chair Sashes (10 strands make 1 Sash)
Material: Chiffon | Satin
Color: Lavender Lilac
Style: Curly Willow
Overall Size: 34" Long x 7"Wide
Total Strands: 50
Easily tie on any chair type
Note: Listing is for Curly Willow Strands Only. Other accessories not included.
Information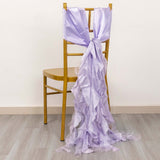 Lavender Lilac Curly Willow Chair Sashes
Introducing a touch of enchantment to your event decor - the Lavender Lilac Curly Willow Satin Chiffon Chair Sashes. Beyond mere accessories, these sashes are a harmonious fusion of elegance and whimsy, designed to infuse your wedding or special occasion with a dash of ethereal charm. Imagine your venue adorned with these lavender cascades, each sash carefully crafted to embody the delicate curves of willow branches. The satin tutu-style arrangement adds a playful texture, reminiscent of a gentle breeze rustling through leaves, while the soothing lavender hue brings a sense of calm to the atmosphere.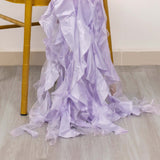 Lavender Lilac Chiffon Satin Chair Sashes
Elevate your event with the Lavender Curly Willow Satin Chiffon Chair Sashes, a graceful addition to any setting. Whether your celebration takes place in a rustic garden or an elegant ballroom, these sashes transcend ordinary decor, creating an atmosphere that captures hearts. Draped over chairs, they create a mesmerizing dance of light and shadow, akin to the sun's caress on a summer day. Each guest will be captivated by the blend of sophistication and whimsy, as your venue transforms into a haven of dreams. The Lavender Curly Willow Satin Tutu Chair Sashes are more than accessories; they're storytellers, conveying the essence of your event through their exquisite design.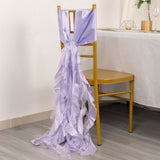 Whimsical Spiral Design Chair Sashes
Your event deserves the finest touches, and the Lavender Curly Willow Satin Chiffon Chair Sashes offer just that. Crafted with meticulous attention to detail, they are not just chair adornments, but a reflection of your commitment to beauty and artistry. Immerse your guests in a world where every detail matters, where chairs are no longer just furniture but vessels of elegance. Let the Lavender Curly Willow Satin Chiffon Chair Sashes be the thread that weaves your event's narrative, where every moment is an interplay of grace and enchantment, ensuring that your celebration is nothing short of extraordinary.
Additional Information:
How to Care: Hand wash in cold water, gently squeeze out any excess water and lay it flat to dry.

Sashes are shipped in a folded, compressed form. In order to achieve full, fluffy look, you must use your fingers to comb through the strands of  Curly Willow material.

Uses: Wedding, Party, Event, Banquet, Decoration