5 Pack Rose Gold Diamond Glitz Sequin White Spandex Chair Sash Bands, Sparkly Geometric Stretchable Chair Sashes
SKU: SASH_SPX02G_054
Free Shipping $49.00 to get Free Shipping
Free Shipping for Orders $49+ in the contiguous 48 US States. (Excludes AK, HI, US Territories, APO/FPO, International Countries)
Please enter your address in checkout for special shipping rate, UPS does not deliver to PO Box.
Quantity: 5 Chair Sashes

Material: Shiny Sequin Beads atop Spandex Base

Color: Rose Gold | White

Style: Geometric Diamond Pattern

Size: 13"W x 6"L

Maximum Stretch: 16"

Works for folding and banquet style chairs

Features: Versatile, Reusable, Easy to set up, Durable.

For sashes only, does not include any other decorations

Information
Rose Gold Chair Sashes with White Spandex Base
Introducing our opulent Rose Gold Diamond Glitz Sequin White Spandex Chair Sash Bands – a harmonious fusion of elegance and allure meticulously crafted for your event decor aspirations. These chair sashes are more than mere adornments; they are a testament to exquisite craftsmanship, poised to elevate your special occasion into an unforgettable experience. The captivating interplay of radiant rose gold sequins against the backdrop of pristine white spandex fabric creates a visual spectacle that promises to mesmerize your guests.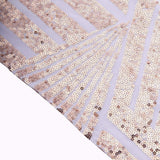 White Rose Gold Sequin Stretchable Chair Sashes
Beyond their aesthetic appeal, our chair sashes offer a seamless blend of comfort and adaptability. Fashioned from premium spandex material, they gracefully hug chairs of varying sizes, providing both snugness and stretchability. Whether you're curating a dream wedding, orchestrating a corporate extravaganza, or hosting an extravagant birthday celebration, these sashes stand as the quintessential choice to infuse a touch of opulence and glimmer into your event. The geometric pattern adds a contemporary twist, ensuring they seamlessly complement both modern and traditional settings.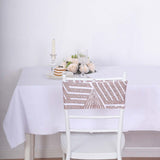 White Rose Gold Geometric Diamond Pattern Chair Bows
What truly distinguishes our Rose Gold Diamond Glitz Sequin White Spandex Chair Sash Bands is their innate ability to metamorphose ordinary seating into regal thrones. Installation is a breeze, and the unique amalgamation of sequins and spandex captures and reflects light with unparalleled grace. Your guests will be entranced by the ethereal sparkle as they take their seats. Make an indelible statement and craft enduring memories with these chair sashes, effortlessly harmonizing style, comfort, and sophistication. Elevate your event decor to unprecedented heights with these captivating chair sashes – your guests will be grateful for the enchantment you bring to the occasion.
Additional Information:
Care Instruction: Sparingly spot clean if necessary with cold water, hang dry. Dry clean for best results.
Uses: Wedding, Party, Event, Banquet, Decoration