5 Pack White Premium Scuba Cloth Napkins, Wrinkle-Free Reusable Dinner Napkins - 20"x20"
SKU: NAP_SCUBA_WHT
Free Shipping $49.00 to get Free Shipping
Free Shipping for Orders $49+ in the contiguous 48 US States. (Excludes AK, HI, US Territories, APO/FPO, International Countries)
Please enter your address in checkout for special shipping rate, UPS does not deliver to PO Box.
Quantity: 5 Dinner Napkins

Material: Scuba Polyester

Color: White

Size (Unfolded): 20"L x 20"W

Thickness: 200 GSM
Edges: Hemmed
Napkins are seamless, 1pc design

Features: Stain & Wrinkle Free, Gentle Stretch, Reusable, Durable, Washable
Information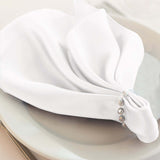 White Scuba Polyester Cloth Napkins
Elevate the dining experience to new heights of elegance with our White Scuba Polyester Dinner Napkins. Crafted to perfection, these napkins redefine the art of table decor. Immaculate in their simplicity, the snowy-white scuba polyester exudes a sense of purity that enhances any table setting, from formal banquets to intimate gatherings. Whether you're hosting a lavish celebration or an intimate dinner, these table napkins are the epitome of sophistication, transforming each meal into a feast for the senses.
Seamless White Dinner Napkins
These seamless wrinkle-free cloth napkins are a fusion of aesthetics and practicality that sets the standard for refined hosting. These napkins are more than just accessories; they're an embodiment of meticulous attention to detail. The seamless design ensures a flawless drape over tables, creating a visual symphony of perfection. But it's not just about appearances – the wrinkle-free nature of the cloth guarantees a pristine look even after repeated use. Say goodbye to the woes of ironing and hello to effortless elegance that complements your culinary creations.
Wrinkle Free White Table Napkins
Unveil the potential of your table decor with the White Scuba Polyester Dinner Napkins, where simplicity and sophistication unite. Beyond their role as functional pieces, these napkins evoke a sense of timeless beauty that resonates with both traditional and contemporary aesthetics. Embrace the Seamless Wrinkle-Free Cloth Napkins as your companions in hosting, allowing you to focus on crafting an experience where every detail exudes charm and refinement. From the first course to the last, let these napkins tell a story of elegance that your guests won't soon forget.
Additional Information:
Listing is for Napkins only. Other decorative accessories are not included
Care Instruction: Machine Washable & Dryable. Do not bleach.

Uses: Wedding, Birthday, Party, Event, Banquet, Restaurants