$71.99
$110.39
Save $38.40
8-Tier Clear Acrylic Cake Stand Set, Cupcake Holder Dessert Pedestals
Item Number :CAKE_STND_8T
---
Quantity:

Set of 16 Plates and Set of 8 Tubes
Material: Acrylic
Color: Clear
Plate Sizes
14" Round Plate (2 pcs)
12" Round Plate (4 pcs)
10" Round Plate (2 pcs)
8" Round Plate (4 pcs)
6" Round Plate (2 pcs)
Tube Sizes
18" Tall Tube (1 pc)
12" Tall Tube (2 pcs)
10" Tall Tube (2 pcs)
8" Tall Tube (2 pcs)
6" Tall Tube (1 pc)
Combination: 2 Plates + 1 Tube = 1 Cake Tier Set
Package Contains: 16 Plates + 8 Tubes
Tall tube is used for cake, 1 extra short tube is used for the centerpiece bouquet holder
Want to add more Tiers?
More Details
Information

Information

Reviews
Additional Information:
Tier Set 1 (1 Set)

6" Round Plates (2 Pcs)
18" Tube (1 Pc)

Tier Set 2 (2 Sets)


8" Round Plates (4 Pcs)
12" Tube (2 Pcs)

Tier Set 3 (2 Sets)


10" Round Plates (4 Pcs)
10" Tube (2 Pcs)

Tier Set 4 (2 Sets)

12" Round Plates (4 Pcs)
8" Tube (2 Pc)

Tier Set 5 (1 Set)

14" Round Plates (2 Pcs)
6" Tube (1 Pc)

Combination: 2 Plates + 1 Tube = 1 Cake Tier Set
Package Contains: 16 Plates + 8 Tubes
Our tubes are clear acrylic, which means you can decorate the inside of the tube with theme color flowers, battery lights, or other colored items to match your theme.

Each tier of the cake stand is separated. Why is this good? Simple, this allows you to arrange in any design you like on any size table. Much more flexibility.

HOW TO USE: when putting the plates and tubes together, insert the tube into the plate hole, once tight and firm, that's it, you're done, top your cake, cupcakes, and wedding favors on the display plate. Do not keep pressing the tube all the way in when the assembly is already tight/firm, as this may cause the plate to break.
Customer Reviews
Write a Review
Ask a Question
08/29/2020
Cassia P.

United States
Wobbly
If you don't mind messing around for about an hour to make these simi-perfect. The more weight you add to them, the more they lean, so adding one 2" cupcake to the side of any of these, the platter will tilt, so add cupcakes across from one another at a time. Add one on the left and the right at the same time, then add the front and the back at the same time at the far edged of each one to try and keep it level. The tallest tear was the most frightening thing I've ever had to professionally do because of the weight of the 2-tier cake that weighed maybe 3-4lbs. and it was WOBBLY!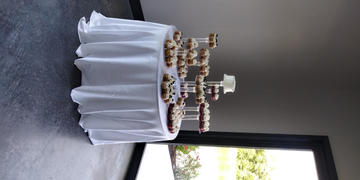 04/05/2021
Donna M.

United States
8 tiered cake/dessert stand
I ordered one set of these to use for my daughter's bridal shower and wedding. I'm glad I ordered early because six of the plates in the set were a misty gray color and five of the clear plates were cracked. I took pictures and messaged customer service and they sent another set as a replacement. Two of the replacement plates were broken and two were warped, but together with what I could salvage from the first set will be enough of a set to make a nice display.
Perfect
It came fast. The product is like the photo. Very satisfied. Thnx a lot. I will for sure order here some more stuff
Great priduct
Great priduct
Perfect
As expected. Wonderful item. Will really make the cake stand out with the ability to put lights in the stands. I can't wait to see it at the reception
Estoy esperando, no me al llegado nada
No e recibido todos mis pedidos