$
15
.99
$25.99
Save $10.00
Hunter Emerald Green Crushed Velvet Spandex Fitted Round Highboy Cocktail Table Cover
SKU: TAB_COCK_VEL01_HUNT
Free Shipping $49.00 to get Free Shipping
Free Shipping for Orders $49+ in the contiguous 48 US States. (Excludes AK, HI, US Territories, APO/FPO, International Countries)
Please enter your address in checkout for special shipping rate, UPS does not deliver to PO Box.
Quantity: 1 Cocktail Table Cover
Material: Crushed Velvet Spandex
Color: Hunter Emerald Green
Style: Sleek w/ Deep Elastic Foot Pockets
Size: Fits up to 32" Round Cocktail Tables with 42" Height
Edges: Hemmed to prevent fraying
Thickness: 200 GSM
Features: 4-way stretch spandex, soft, wrinkle and stain resistant, durable, reusable
Information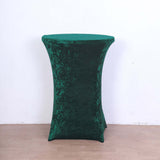 Hunter Emerald Green Spandex Cocktail Table Cover
Introducing the captivating Hunter Emerald Green Soft Velvet Spandex Table Cover, a remarkable fusion of vibrant color, luxurious texture, and practical design. Crafted with meticulous attention to detail, this table cover features a luscious emerald green hue that exudes sophistication and style. The soft velvety texture invites a tactile experience, while the stretchable spandex ensures a seamless and snug fit. This isn't just any table cover; it's a statement piece designed to transform highboy cocktail tables into mesmerizing centerpieces that command attention.
Hunter Emerald Green Crushed Velvet Stretch Table Cover
Combining style and functionality, this table cover is tailored for round highboy cocktail tables. Its stretchable material molds perfectly to the table, eliminating any concerns about wrinkles or unsightly fabric bunching. Despite its plush and delicate appearance, the velvet spandex material is remarkably durable and resistant to stains. Cleaning is a breeze; simply wash in cold water and witness its vibrant color and soft texture withstand the test of time.
Hunter Emerald Green Spandex Fitted Round Highboy Table Cover
Unleash your creativity with our Hunter Emerald Green Soft Velvet Spandex Table Cover. Picture it adorned with gold candlesticks and delicate white roses for a captivating wedding reception, or paired with crystal glassware and silver cutlery for an elegant dinner party. Its rich color can also beautifully complement Christmas-themed decor, adding a touch of enchantment to your celebrations. This table cover is a game-changer for those who seek to create unforgettable settings. If you value quality, elegance, and versatility in your event decor, this product is an absolute must-have addition to your collection.
Additional Information:
Perfect to highlight cake tables, dessert tables, sweetheart tables, head tables, gift, and guestbook tables
For Table Cover Only. Decorations not included

How to Care: Machine washable with water (cold or room temperature) in a gentle cycle.
Uses: Wedding ceremonies and receptions, bridal showers, baby showers, quinceaneras, anniversary parties, or any other special event