$
9
.99
$15.99
Save $6.00
(1)
Natural Rustic Jute Lace Wedding Cake Knife Server Party Favors Gift Set, Stainless Steel Souvenir Server Set Pre-Packed with White Gift Box and Heart Tags
SKU: SERV_JUTE_001
Free Shipping $49.00 to get Free Shipping
Free Shipping for Orders $49+ in the contiguous 48 US States. (Excludes AK, HI, US Territories, APO/FPO, International Countries)
Please enter your address in checkout for special shipping rate, UPS does not deliver to PO Box.
Quantity: 1 Set (1 Cake Server & 1 Cake Knife)
Material: Stainless Steel | Jute | Lace
Color: Natural, White & Silver
Style: Burlap and Lace w/ Heart Tags
Knife Size: 13"L x 1"W
Server Size: 11"L x 2"W
Comes in a White Gift Box
Gift Box Type: Cardstock w/ Floral Pattern
Heart Tag Material: Wood
Text on Heart Tags: "Love is Sweet" and "XXOO"
Features: High Quality Stainless Steel, Durable, Washable, not easy to rust.
Information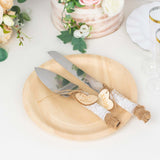 Rustic Wedding Themed Cake Server Set
Indulge in the enchanting beauty of our Natural Burlap Lace Cake Server Set and take your wedding cake cutting ceremony to extraordinary heights of rustic charm. Immerse yourself in the exquisite craftsmanship that seamlessly blends the warmth of burlap with the delicate allure of lace, resulting in a captivating fusion of textures that effortlessly complements rustic, farmhouse, or vintage-inspired wedding themes. Constructed with stainless steel, this cake knife and server set not only exudes timeless elegance but also guarantees longevity and practicality.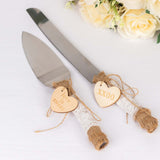 Jute Burlap Lace Cake Knife Set
As you embark on the momentous task of slicing into your wedding cake, the gracefully designed knife and server, adorned with an intricate twine heart love wood tag, add a whimsical touch that delicately tugs at the heartstrings. Each element of this set is thoughtfully adorned with rustic accents, evoking a deep sense of nostalgia and infusing your special day with a personalized touch. This wedding cake server set transcends its functional purpose to become a cherished keepsake, symbolizing your love and the cherished memories you create on your momentous day.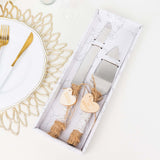 Stainless Steel Cake Souvenir Server Set
Crafted with meticulous attention to detail, our rustic burlap lace wedding cake server set ensures a seamless and effortless cake-cutting experience. The ergonomic design provides a comfortable grip, allowing you to effortlessly glide through each slice of cake. Whether you're hosting an intimate gathering or a grand celebration, this server set serves as the perfect companion to infuse your wedding day with a touch of rustic elegance. With our exquisite set, create an unforgettable moment as you cut your cake, and let the profound love and joy radiate from each and every slice.
Additional Information:
Listing is for Cake Knife & Server Set Only. Other Decorative Accessories are not Included.

Uses: Country Wedding Ceremonies, Traditional Weddings, Birthday Parties, Restaurant Servers, Anniversary Gifts, Bridal Showers, Engagement Parties and more!