$
39
.99
$63.99
Save $24.00
(77)
15" Tall 4-Tier Natural Rustic Wood Slice Cake Stand, Farmhouse Style Dessert Holder Cupcake Stand
SKU: CAKE_WOD016_10_NAT
Free Shipping $49.00 to get Free Shipping
Free Shipping for Orders $49+ in the contiguous 48 US States. (Excludes AK, HI, US Territories, APO/FPO, International Countries)
Please enter your address in checkout for special shipping rate, UPS does not deliver to PO Box.
Quantity: 1 Cake Stand
Material: Wood
Color: Natural
Style: 4-Tier Round Wood Slice Cake Stand
Overall Size: 15.5"H x 21"L
Total Wood Slices: 4
Wood Slice Size: 10"Dia.
Thickness of each Wood Slice: 1.25"
Assembly Required: Yes. Easy to Assemble.
Instruction Included: Yes
Great for serving cakes, cupcakes, cheese, crackers, and hors d'oeuvres
Information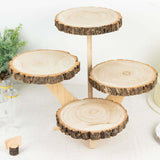 Natural 4-Tier Wood Slice Cupcake Stand Holder
Unleash the rustic charm of nature onto your dessert table with our 4-Tier Natural Round Wood Slice Cake Stand! This exquisite centerpiece is more than just a display stand; it's a captivating piece of art that effortlessly blends farmhouse aesthetics with modern elegance. Crafted from carefully selected natural wood slices, each tier tells a unique story with its distinctive grain patterns and earthy textures.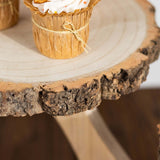 Natural Farmhouse Style Dessert Display Stand
Imagine the delight on your guests' faces as they feast their eyes on a captivating arrangement of delectable treats, perched upon this enchanting dessert holder. Whether it's a wedding reception, a birthday celebration, or a cozy family gathering, this stand will elevate your event to new heights of rustic sophistication. With its four tiers of varying sizes, you have ample space to showcase a variety of cakes, cupcakes, pastries, or even decorative items like flowers and candles.
Natural Rustic Wood Cake Stand
Not only does our rustic cupcake stand exude charm and elegance but it is also crafted with durability and stability in mind. Each wood slice is meticulously sanded and treated to ensure a smooth and sturdy surface. The solid construction and reliable design make this stand a safe and secure platform for your delectable creations. Create unforgettable moments and indulge in the beauty of natural craftsmanship with our Farmhouse Style Wooden Dessert Holder, a true centerpiece that will leave a lasting impression on your guests.
Additional Information:
Note: These are Hand Made. Variations in size, shape, color, and clarity are expected. Natural marking or blemishes are common.

Uses: Farmhouse Weddings, Birthdays, Reunions, Buffets, Receptions, Hotels, Restaurants, Anniversaries, Corporate Events, Convention Centers, Graduations, Casual Gathering, Thanksgiving, Outdoor Picnic.