2 Pack Metallic Gold Mini Bubble Cube Battery Operated Candles, Flameless LED Decorative Candles - 2"
SKU: LED_CAND_PLP12_2_GOLD
Free Shipping $49.00 to get Free Shipping
Free Shipping for Orders $49+ in the contiguous 48 US States. (Excludes AK, HI, US Territories, APO/FPO, International Countries)
Please enter your address in checkout for special shipping rate, UPS does not deliver to PO Box.
Quantity: 2 Bubble Candles

Candle Material: Plastic
Flame Material: Plastic

Candle Color: Metallic Gold

LED Color: Warm White

Style: Bubble Cube LED Candles

Overall Size: 2"L x 2"W x 2"H

Flame Size: 1"L x 0.25"W

Battery Type: 1x CR2032 (Included)

Function: On/Off Switch (at the bottom)

Features: High Quality LED & Plastic, Flickering Light, Long Life, Safe, Risk-Free

Information
Metallic Gold Flameless LED Candles
Experience the magic of enchanting illumination with our Metallic Gold Mini Bubble Cube Candles. These exquisite flameless LED candles are not just a source of light – they are a testament to innovation and elegance. Crafted to redefine your décor, each candle combines the allure of a bubble-textured surface with the convenience of battery operation.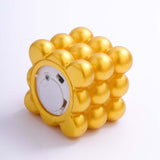 Metallic Gold Bubble Cube Decorative Candles
Let your surroundings come alive as the flickering LED light dances through the delicate bubbles, casting a mesmerizing play of shadows that captivates the eye. With a touch of modernity and a dash of sophistication, these bubble candles transcend traditional expectations, making them the perfect centerpiece for any occasion. Designed for your convenience, the battery-operated feature ensures hassle-free use, allowing you to create stunning displays without the worry of open flames. Place them on your tabletops, scatter them along pathways, or even float them in water for a truly magical effect.
Metallic Gold Battery Operated Candles
Illuminate your space with the radiance of innovation – shop our Metallic Gold Mini Bubble Cube Candles today. Redefine your ambience with the elegance of LED cube candles, merging artistry and technology in perfect harmony. Create an atmosphere that is both captivating and safe, all while enjoying the beauty of these plastic candles that embrace the future of lighting.
Additional Information:
Item is for bubble candles only. Other decorative accessories are not included.

Uses: Perfect for Home, Weddings, Churches, Restaurants, and Events