$
7
.99
$12.99
Save $5.00
(1)
4 Pack Gold Metal Napkin Rings, Hollow Woven Style With Rhinestones, Elegant Napkin Holders
SKU: NAP_RING42_GOLD
Free Shipping $49.00 to get Free Shipping
Free Shipping for Orders $49+ in the contiguous 48 US States. (Excludes AK, HI, US Territories, APO/FPO, International Countries)
Please enter your address in checkout for special shipping rate, UPS does not deliver to PO Box.
Information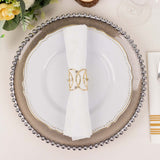 Gold Metal Napkin Rings
Elevate your table settings to a realm of timeless elegance with our Gold Metal Hollow Woven Style Napkin Rings adorned with exquisite rhinestones. These elegant napkin holders are more than just accessories; they're the finishing touch that transforms every meal into a luxurious affair. Crafted with meticulous attention to detail, the intricate woven design exudes a sense of sophistication, while the glistening rhinestones add a touch of opulence that catches the light with a captivating sparkle.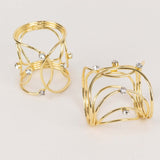 Gold Hollow Woven Style Napkin Holders
Embrace the art of refinement as you adorn your napkins with our Gold Metal Hollow Woven Style Napkin Rings. Each piece is a testament to impeccable craftsmanship, a delicate balance of intricate design and functionality. The gold metal exterior exudes warmth and glamour, while the woven pattern creates a visual texture that delights the senses. The rhinestones are strategically placed, reflecting the ambiance of your gathering and adding a touch of magic to every place setting.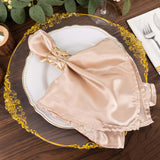 Gold Napkin Buckles with Diamond Rhinestones
Unlock the potential for enchantment as you infuse your dining experience with the charm of our Gold Metal Hollow Woven Style Napkin Rings. These elegant napkin holders transcend the ordinary, becoming a symbol of your attention to detail and dedication to creating memorable moments. Whether it's a grand celebration or an intimate dinner, these napkin rings become the focal point that ties your table decor together. Elevate your gatherings with a touch of glamour, and let the woven gold and the glimmering rhinestones transform your mealtime into a captivating journey of style and sophistication.
Additional Information:
Perfectly goes with our wide selection of Napkins

Easy to Clean: Wipe clean with damp cloth.

Uses: Perfect for Wedding Receptions, Birthday Party, Bridal Shower, Ladies Luncheons, Tea Parties, Engagement Party, Mis Quince, Sweet 16, Farmhouse Style decor, Fall Table decor, Holidays, Christmas decor and more.