5 Pack Shiny Black Gold Foil Cloth Dinner Napkins Disco Mirror Ball Theme, Polyester Table Napkins - 20"x20"
SKU: NAP_25A_BLKGD
Free Shipping $49.00 to get Free Shipping
Free Shipping for Orders $49+ in the contiguous 48 US States. (Excludes AK, HI, US Territories, APO/FPO, International Countries)
Please enter your address in checkout for special shipping rate, UPS does not deliver to PO Box.
Quantity: 5 Dinner Napkins

Material: Shiny Mirror Foil atop Polyester Base

Color: Black | Gold

Size: 20"L x 20"W

Thickness: 160 GSM
Edges: Serged

Shape: Square
Seamless 1pc Design
Information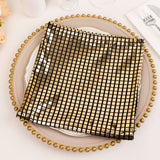 Black Gold Foil Cloth Napkins
Introducing an exquisite fusion of sophistication and nostalgia – the Shiny Black Gold Foil Linen Dinner Napkins. Elevate your dining experience with a touch of glamour that transports you back to the golden era of disco. Crafted with meticulous attention to detail, these polyester cloth table napkins exude an air of opulence, featuring a captivating amalgamation of deep black hues and radiant gold foil accents. Drawing inspiration from the iconic mirror ball, these napkins infuse every meal with a dash of elegance reminiscent of grand celebrations.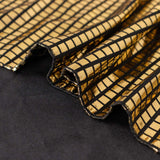 Black Gold Disco Mirror Ball Theme Napkins
Envelop your table settings in a luxurious embrace with the Shiny Black Gold Foil Linen Dinner Napkins. The premium polyester cloth not only boasts a lustrous finish but also guarantees durability and effortless upkeep. With their shimmering gold foil accents dancing against the rich black backdrop, these napkins create a captivating interplay of light and shadow, adding an enchanting dimension to your dining experience. Whether it's an intimate family gathering or a lavish soirée, these napkins effortlessly enhance the ambiance, making every moment at the table a cherished memory.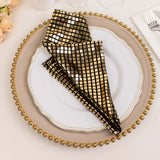 Black Gold Reusable Table Dinner Napkins
Indulge in the timeless allure of the Disco Mirror Ball Theme with these polyester cloth table napkins. With each napkin meticulously designed to embody the glitz of yesteryears and the elegance of today, you're invited to relish the art of dining in an entirely new light. Elevate your tablescapes and celebrations, ensuring that every guest feels like a VIP in a room filled with shimmering reflections and a sense of classic luxury. Choose the Shiny Black Gold Foil Linen Dinner Napkins to redefine your dining moments and create an atmosphere that resonates with the timeless allure of the disco era.
Additional Information:
Care Instruction: Reusable and washable, can be washed by hands in cold water, and hang to dry, machine wash not recommended
Listing is for Dinner Napkins Only. Other accessories are not included.
Uses: Birthday parties, 70s parties, 80s parties, neon themed parties, disco dance parties, wedding, reception, banquet, baby shower parties, bridal shower, Christmas.