$
11
.99
$18.99
Save $7.00
6 Pack | 10" Gradient Gold Battery Operated LED Unscented Taper Candles, Flickering Flameless No Drip Ombre Candle Sticks
SKU: LED_CAND_TP04_GOLD
Free Shipping $49.00 to get Free Shipping
Free Shipping for Orders $49+ in the contiguous 48 US States. (Excludes AK, HI, US Territories, APO/FPO, International Countries)
Please enter your address in checkout for special shipping rate, UPS does not deliver to PO Box.
Quantity: 6 LED Taper Candles
Material: Plastic
Candle Color: Gradient Gold
LED Color: Warm with Flickering Effect
Overall Size: 10"H x 0.75"W
Candle Height without Flame: 9"
Flame Size: 1"H x 0.25"W
Battery Type: 2x AAA Batteries (not included)
LED Replaceable: No
Replaceable Batteries: Yes
On/Off: Tighten the Bottom Cap all the way to Turn ON, Lightly unscrew Bottom Cap to Turn OFF
Information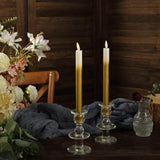 Gold Gradient Flameless LED Taper Candles
Set the perfect mood and add a touch of opulence to any space with our enchanting Gold Gradient Flickering LED Taper Candles! Embrace the beauty of flickering candlelight without the worry of open flames or messy wax drips. These mesmerizing taper candles are designed to replicate the authentic ambiance of traditional candles, while their innovative battery-operated feature guarantees a safe and hassle-free experience.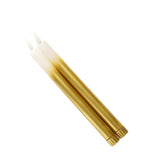 Gold Gradient Battery Powered LED Candles
Crafted with utmost precision, our Gold Warm LED Taper Candles boast a stunning gradient effect that elegantly transitions from a rich, deep gold hue at the base to a warm, radiant glow at the tip. Enhance your dinner parties, weddings, or any special occasion with the captivating allure of these candles, creating a memorable atmosphere that will leave your guests in awe. The soft, flickering light mimics the dance of real flames, creating an ambiance that's both calming and captivating, making it perfect for relaxing nights in or intimate moments shared with loved ones.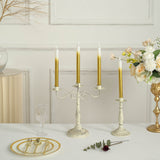 Ombre Gold Reusable Candles
Beyond their dazzling appearance, these flameless taper candles offer unrivaled convenience. The battery-operated design means no more worrying about extinguishing flames or replacing wax. With a simple switch, you can easily control the candle's glow, setting the mood effortlessly. Whether adorning your dining table, mantlepiece, or even as part of a centerpiece, our flickering battery-operated taper candles are the epitome of sophistication and convenience, making them an essential addition to your decor collection. Elevate your ambiance and let the enchantment of these mesmerizing candles light up your life.
Additional Information:
These LED candles reduce fire risk and last much longer than traditional wax candles.

Bright enough to be considered a viable source of light during a power outage.
Uses: Promotional Gifts, Hotels, Bars, Home Decor, Churches, Temples, Christmas Holidays, Birthday Parties, Beaches, Meadows, Spring Fire Parties, etc.