$
7
.69
$13.49
Save $5.80
6 Pack Brown 13" Disposable Placemats With Walnut Wood Design, Round Paper Dining Table Mats
SKU: DSP_CHRG_R0012_BRN
Free Shipping $49.00 to get Free Shipping
Free Shipping for Orders $49+ in the contiguous 48 US States. (Excludes AK, HI, US Territories, APO/FPO, International Countries)
Please enter your address in checkout for special shipping rate, UPS does not deliver to PO Box.
Quantity: 6 Placemats
Material: Cardboard
Color: Brown
Shape: Round
Style: Walnut Wooden Print
Total Diameter: 13"
Thickness: 600 GSM
Features: Premium Quality, Eco-friendly, Non-Toxic, Sturdy, Durable & Disposable
Information
Brown Walnut Wood Design Disposable Placemats
Elevate your culinary experience to unparalleled heights with our enchanting Brown Walnut Wood Design Cardboard Table Placemats. These circular disposable serving trays effortlessly blend the allure of nature-inspired aesthetics with the practicality of top-tier cardboard material, bringing an exquisite touch of rustic elegance to your most cherished occasions. Each meticulously crafted placemat is a testament to thoughtful design, meticulously emulating the intricate patterns and textures found in genuine walnut wood. The outcome is a breathtakingly lifelike appearance that not only adds a sense of opulence to your table setting but also elevates the overall visual appeal.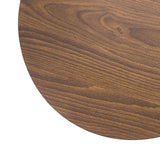 Brown Round Cardboard Table Placemats
Be it a grand wedding reception, an intimate family gathering, or a sophisticated corporate event, these table placemats serve as the epitome of choice to infuse an element of luxury into your decor. The deep, rich brown tones of the walnut wood design cast a warm and stylish aura across your table, creating an atmosphere that invites and delights your esteemed guests. Complementing a wide array of color schemes and thematic arrangements, these placemats effortlessly adapt to any event, making them an exceptionally versatile addition.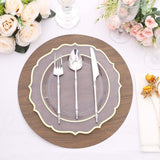 Brown Dining Table Mats
Beyond their evident aesthetic charm, our dining placemats boast a foundation of high-quality cardboard construction, ensuring robustness while retaining their disposable convenience for effortless cleanup. Not only do these placemats serve as safeguards against spills and stains on your cherished table linens, but they also provide a reliable base for your culinary masterpieces. Pamper your guests with the timeless sophistication of our Walnut Wood Table Placemats, infusing each meal with an air of elegance and refinement that lingers long after the gathering is over. Make every dining occasion a visual masterpiece, transforming the ordinary into the extraordinary with these exquisite placemats that seamlessly harmonize the inherent beauty of nature with the practical innovation of modern design.
Additional Information:
Listing is for Table Placemats only. Other decorative accessories are not included
Uses: These placemats are a perfect option for banquets, fiestas, BBQs, wedding, engagements, birthdays, parties, baby showers, upscale catering, home dinners, etc.

WARNING: Not Microwave or Dishwasher Safe