$
19
.99
$31.99
Save $12.00
(3)
8ft Beige Spandex Fitted Open Arch Wedding Arch Cover, Double-Sided U-Shaped Backdrop Slipcover
SKU: IRON_STND18_SPX_L_081
Free Shipping $49.00 to get Free Shipping
Free Shipping for Orders $49+ in the contiguous 48 US States. (Excludes AK, HI, US Territories, APO/FPO, International Countries)
Please enter your address in checkout for special shipping rate, UPS does not deliver to PO Box.
Quantity: 1 Wedding Arch Cover
Material: Spandex
Color: Beige
Style: U-Shaped
Total Height (Stretched): 8ft
Total Width: 11"
Feature: Premium Quality Spandex, Wrinkle Resistant, Durable, Reusable
Pullover cover to get a snug fit
Information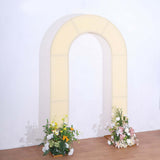 Beige Spandex Wedding Backdrop Cover
Step onto the canvas of creativity with our Beige Stretch Spandex Open Arch Backdrop Cover – a mesmerizing blend of elegance and innovation that transforms your event space into an enchanting masterpiece. Crafted from high-quality stretch spandex, it is a perfect blend of durability and flexibility. Whether you're orchestrating a wedding, a corporate gala, or a dreamy photo shoot, this double-sided marvel ensures that both sides of your arch are wrapped in sheer elegance. The open arch design beckons guests to step into a realm of endless wonder, where moments are woven into memories against the backdrop of seamless beauty.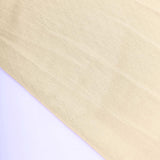 Beige Double-Sided U-Shaped Arch Slipcover
Designed to captivate from every angle, the Beige Stretch Spandex Open Arch Backdrop Cover transcends the ordinary, enveloping your events in an aura of refinement. The double-sided feature elevates your decorating game. As daylight filters through the intricately woven spandex fibers, a soft, warm glow bathes the surroundings, casting a serene ambiance that complements both indoor and outdoor settings. Its U-shaped backdrop slipcover embraces your arches with precision, ensuring a snug fit that stays in place throughout your event, while still being easy to install and remove – a boon for event planners and hosts seeking seamless execution.
Beige Fitted Open Arch Cover
Crafted with a commitment to quality and style, the Beige Stretch Spandex Open Arch Backdrop Cover captures the essence of your occasion, creating an exquisite tapestry against which memories are etched. Its spandex fabric, known for its resilience, guarantees longevity, allowing you to adorn countless events with its alluring charm. Whether framing the vows of a blushing bride and groom or providing an elegant backdrop for keynote speakers, this cover harmonizes grace and innovation in perfect unison. Elevate your event, indulge in the luxury of effortless beauty, and let this backdrop cover redefine the artistry of your special moments.
Additional Information:
Order is for Wedding Arch Cover only. Stands or other accessories are not included.
Uses: Wedding Decoration, Ceremony, Party Decor, Baby Shower, Shopping Mall, Stores, Home Decor