$
19
.99
$31.99
Save $12.00
8ft Blush Spandex Fitted Open Arch Wedding Arch Cover, Double-Sided U-Shaped Backdrop Slipcover
SKU: IRON_STND18_SPX_L_046
Free Shipping $49.00 to get Free Shipping
Free Shipping for Orders $49+ in the contiguous 48 US States. (Excludes AK, HI, US Territories, APO/FPO, International Countries)
Please enter your address in checkout for special shipping rate, UPS does not deliver to PO Box.
Quantity: 1 Wedding Arch Cover
Material: Spandex
Color: Blush
Style: U-Shaped
Total Height (Stretched): 8ft
Total Width: 11"
Feature: Premium Quality Spandex, Wrinkle Resistant, Durable, Reusable
Pullover cover to get a snug fit
Information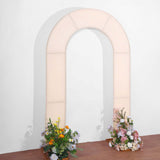 Blush Spandex Wedding Backdrop Cover
Unveil the allure of sophistication with our Blush Stretch Spandex Open Arch Backdrop Cover – a true masterpiece that transforms ordinary spaces into extraordinary experiences. Elevate your event décor game and capture hearts with this exquisite, double-sided U-shaped backdrop slipcover. Crafted from premium stretch spandex, this slipcover embraces your backdrop arch seamlessly, creating a flawless fit that's as enchanting as it is practical. Wrinkle-resistant and incredibly durable, it promises a smooth backdrop canvas without the hassle. Plus, the open arch design ensures easy access and swift adjustments – perfect for photographers and event planners seeking efficiency.
Blush Double-Sided U-Shaped Arch Slipcover
Step into a world where beauty dances with innovation. Crafted with meticulous attention to detail, our spandex backdrop cover features a unique open arch design that adds an ethereal touch to any setting. The blush hue, reminiscent of blooming roses kissed by the sun, emanates warmth and radiance, setting the stage for unforgettable moments. Whether it's a dreamy wedding, a luxurious gala, or a chic corporate affair, our blush U-shaped backdrop cover is the ultimate canvas for your creativity. Let your imagination run wild as you adorn it with fairy lights, florals, or personalized accents. The backdrop's sheer elegance elevates any event theme, turning your vision into a tangible reality.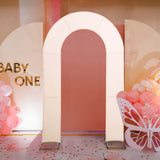 Blush Fitted Open Arch Cover
Say goodbye to tedious setup times and hello to simplicity. Our U-shaped slipcover fits our round top double arch stand snugly, allowing for swift installation that saves time without compromising on quality. Transforming your venue has never been this effortless. Choose the Blush Stretch Spandex Open Arch Backdrop Cover and redefine how memories are made. Let every photo exude a magical aura, every event become a masterpiece, and every heart remember the beauty you've created.
Additional Information:
Order is for Wedding Arch Cover only. Stands or other accessories are not included.
Uses: Wedding Decoration, Ceremony, Party Decor, Baby Shower, Shopping Mall, Stores, Home Decor