$
19
.99
$31.99
Save $12.00
8ft Dusty Rose Spandex Fitted Open Arch Wedding Arch Cover, Double-Sided U-Shaped Backdrop Slipcover
SKU: IRON_STND18_SPX_L_080
Free Shipping $49.00 to get Free Shipping
Free Shipping for Orders $49+ in the contiguous 48 US States. (Excludes AK, HI, US Territories, APO/FPO, International Countries)
Please enter your address in checkout for special shipping rate, UPS does not deliver to PO Box.
Quantity: 1 Wedding Arch Cover
Material: Spandex
Color: Dusty Rose
Style: U-Shaped
Total Height (Stretched): 8ft
Total Width: 11"
Feature: Premium Quality Spandex, Wrinkle Resistant, Durable, Reusable
Pullover cover to get a snug fit
Information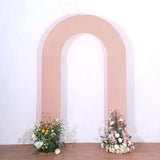 Dusty Rose Spandex Wedding Backdrop Cover
Unveil the allure of elegance with our Dusty Rose Stretch Spandex Open Arch Backdrop Cover – an embodiment of refined enchantment that weaves dreams into reality. Elevate your event decor to a new echelon of sophistication and embark on a journey to capture hearts with this exceptional double-sided U-shaped backdrop slipcover. Crafted from premium stretch spandex, this cover envelops your backdrop's arch with grace, offering a flawless fit that's as enchanting as it is practical. Wrinkle-resistant and fortified with enduring durability, it presents an impeccable backdrop canvas, devoid of any distractions. The open arch design ensures effortless accessibility and swift adjustments – a boon for photographers and event planners alike.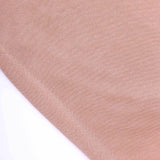 Dusty Rose Double-Sided U-Shaped Arch Slipcover
Imagine a world where innovation intertwines seamlessly with beauty. Impeccably crafted, our spandex backdrop cover showcases a mesmerizing open arch design that infuses ethereal charm into any backdrop. The dusty rose hue, reminiscent of dawn-kissed petals, radiates a gentle warmth that creates an atmosphere of timeless enchantment. From fairytale weddings to upscale galas, and even corporate soirees, the dusty rose U-shaped backdrop cover is your ultimate canvas for creative expression. Embellish it with delicate fairy lights, graceful florals, or personalized embellishments, letting its inherent elegance elevate the thematic essence of your event. This backdrop transforms your vision into tangible splendor.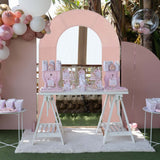 Dusty Rose Fitted Open Arch Cover
Wave goodbye to cumbersome setup rituals and embrace seamless simplicity. Our U-shaped slipcover seamlessly graces our round top double arch stand, ensuring a snug fit that expedites installation without compromising quality. Radiate an irresistible aura in every photograph, orchestrate events that become timeless masterpieces, and let the allure you create remain etched in hearts. Your event's transformation begins here.
Additional Information:
Order is for Wedding Arch Cover only. Stands or other accessories are not included.
Uses: Wedding Decoration, Ceremony, Party Decor, Baby Shower, Shopping Mall, Stores, Home Decor