$
18
.99
$29.99
Save $11.00
Set of 6 Pink Ribbed Crystal Glass 3" Taper Candle Holders, Reversible Mini Votive Tealight Candle Stands
SKU: CAND_HOLD_TP004_PINK
Free Shipping $49.00 to get Free Shipping
Free Shipping for Orders $49+ in the contiguous 48 US States. (Excludes AK, HI, US Territories, APO/FPO, International Countries)
Please enter your address in checkout for special shipping rate, UPS does not deliver to PO Box.
Quantity: Set of 6 Candle Holders (3 Different Styles)
Material: Glass
Color: Pink
Style: Crystal Ribbed Design
Sizes:

Style 1: 2.5"W x 2.25"H
Style 2: 1.75"W x 2.75"H
Style 3: 2.5"W x 2.75"H
Quantity per Style: 2pcs
Each Candle Cup Size: 1"Dia.
Candle Cup Depth: 0.75"
Glass Thickness: 3mm
Features: Thickened Glass, Sturdy, Smooth Edge, Solid Base, Durable
Fits all standard-size taper candles

Information
Pink Crystal Glass Mini Candle Holders
Introducing our exquisite Ribbed Crystal Glass Taper Candle Holders, a captivating blend of elegance, versatility, and timeless beauty. These candle holders are meticulously crafted to enhance the ambiance of any space, be it a romantic dinner, a luxurious event, or a serene evening at home. The gold ribbed design adds a touch of sophistication and opulence to these candle holders. The intricate detailing creates a mesmerizing play of light and shadows, casting a warm and enchanting glow that instantly elevates the atmosphere. With their reversible feature, you can use them to secure taper candles or flip them over to hold pillar, tea light, or votive candles.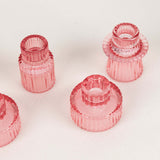 Pink Ribbed Taper Candle Holders
Made from high-quality crystal glass, these candle holders exude a sense of refinement and durability. The crystal-clear clarity of the glass enhances the beauty of the flickering candlelight, creating a stunning visual spectacle that captivates the eyes and warms the soul. Each candle holder is carefully designed to securely hold standard taper candles, providing a stable and safe base for your candles to shine their light.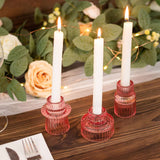 Pink Votive Tealight Candle Stands
Whether you're hosting an elegant dinner party or creating a romantic atmosphere for a special occasion, our ribbed glass candle holders are the perfect choice to infuse your space with a touch of glamour and sophistication. Their versatile design, stunning aesthetics, and impeccable craftsmanship make them an ideal centerpiece or accent piece that will leave a lasting impression on your guests. Elevate your candlelit experiences with these exquisite candle holders and indulge in the ethereal beauty they bring to your surroundings.
Additional Information:
Uses: For windowsill and festival tables like Christmas, Thanksgiving, Passover, and Shabbat. They are also applied to Engagements, Weddings, Birthday Parties, Religious ceremonies, and more!

Note: Listing is for Candle Holders Only. Candles and other decorations are not included
How to Care:
Prior to first use, glass pieces should be hand washed individually in warm soapy water, rinsed thoroughly, and dried with a lint-free cloth.
For optimal finish & clarity, clean with a 50/50 solution of vinegar and water, let stand for a few hours then rinse well and dry with a lint-free cloth.
Our glass is produced overseas in extremely large quantities for our wholesale customers, due to transit and mass storage, all vases should be cleaned before use to remove any accumulated dust/dirt.
Glass pieces should not be cleaned in a dishwasher. Do not use products in microwaves or conventional ovens.