$
18
.99
$30.99
Save $12.00
6 Pack | 13" Clear / Gold Lined Rim Disposable Wedding Charger Plates, Round Plastic Serving Plates with Elegant Ringed Rim
SKU: CHRG_PLST0030_CLGD
Free Shipping $49.00 to get Free Shipping
Free Shipping for Orders $49+ in the contiguous 48 US States. (Excludes AK, HI, US Territories, APO/FPO, International Countries)
Please enter your address in checkout for special shipping rate, UPS does not deliver to PO Box.
Quantity: 6 Charger Plates
Material: Plastic
Color: Clear | Gold
Style: Lined Ring Pattern
Outer Diameter: 13"
Inner Diameter: 7.5
Depth: 0.25"
Shape: Round
Information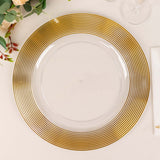 Clear / Gold Lined Ring Serving Plates
Prepare to embark on a celestial dining experience with our mesmerizing Clear/Gold Lined Ring Pattern Plastic Charger Plates. As you set your table, let these exquisite plates transport you to a world where elegance meets cosmic allure. Imagine a constellation of gold rings delicately orbiting the rim, creating a celestial masterpiece that captures the essence of luxury. Crafted from premium quality plastic, these charger plates effortlessly elevate your dining presentation while offering the convenience of easy disposal. Indulge your senses and make every meal a celestial affair with our Lined Ring Pattern Plastic Charger Plates.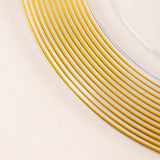 Clear / Gold Disposable Charger Plates With Elegant Ringed Rim
Unleash your inner host extraordinaire with our captivating round disposable serving plates with concentric lined rim. These plates are more than just dinnerware; they are a symbol of style and sophistication. Picture this: a stunning table setting adorned with these sleek plates, their concentric lined rim drawing your guests' attention to the culinary delights before them. Crafted with the utmost precision, these charger plates exude elegance while providing the practicality of disposable convenience. Whether you're hosting a lavish dinner party, a wedding reception, or a casual gathering with friends, these serving plates effortlessly elevate your presentation. Embrace the art of effortless entertaining and leave a lasting impression with our round disposable serving plates with concentric lined rim.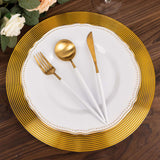 Clear / Gold Ringed Rim Decorative Charger Plates
Ignite a sense of wonder and delight as you serve your culinary creations on our exquisite Clear/Gold Lined Ring Pattern Disposable Charger Plates. These serving trays are a visual symphony, with a celestial design that evokes the awe-inspiring beauty of the cosmos. The gold rings orbiting the rim add a touch of celestial glamour, transforming any table into a celestial wonderland. Crafted from high-quality plastic, these charger plates offer the perfect blend of durability and elegance, making them ideal for both formal occasions and casual gatherings. From elegant dinner parties to celestial-themed events, these plates are the perfect choice to elevate your dining experience. Prepare to dazzle your guests and create an unforgettable atmosphere with our Clear/Gold Lined Ring Pattern Plastic Charger Plates.
Additional Information:
Sale is for Charger Plates only, other decorative accessories are not included.
Easy to wash simply wash under hot rinsing water.
WARNING: These plates are not microwave or dishwasher friendly.
Uses: Perfect for wedding receptions, banquets, graduation parties, and other formal catered events